Junior Justine Picciano stands on the balance beam after a flawless routine. Ready to dismount, she cartwheels off the end of the beam, does a back flip with one and a half twists and sticks the landing. She opens her eyes; her feet have stayed in the same spot the entire time — the whole routine was preformed in her head.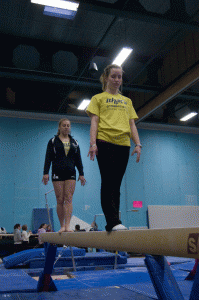 This season, graduate assistant coach Ali Clausen has introduced a training regimen of visualization, focused entirely on the mental aspects of gymnastics.
At the beginning of practice Thursdays, the gymnastics practice room in Ben Light Gymnasium can seem like a meditation garden. Members of the top-ranked gymnastics team stand on the balance beam or hang from the uneven bars, eyes closed, visualizing their routines as other team members attempt to distract them by yelling in their ear or tapping them on the shoulder.
Picciano said visualization is particularly helpful in gymnastics because the tiniest mistake can ruin a routine.
"A lot of gymnastics is mental," she said. "We all know our bodies can do the skills we want to; it's just more of battling our minds. The tiniest little bobble will throw you off."
Clausen said visualizing a back handspring and actually doing it are both just as important in a gymnasts' preparation.
"We have them do five beam routines every day, but we can get an extra five in through visualization because your body doesn't know the difference," Clausen said.
Senior Kailee Spusta said visualization has boosted the team's confidence — especially when a teammate goes down with an injury.
"The visualization helps them keep practicing mentally in their heads," Spusta said. "So when their bodies are ready to go the mind is already in the right spot, and their training comes along a lot faster."
Spusta said visualization has helped her remain mentally ready to compete as she rehabbed a hyper-extended knee that kept her out of last Sunday's meet against Springfield.
"I've been doing a lot of visualization and I'm ready to get back training this week," she said. "I feel like I'm in a much better spot than if I wasn't continually able to practice in my head."
Clausen was first introduced to visualization while she was a club gymnast and said it is fairly common in the sport. She learned more about it and how to teach it as a graduate student in sports psychology at Ithaca College.
Clausen said after last season she and Head Coach Rick Suddaby determined that mental focus was an area that could be improved.
"We really identified a need, especially on beam, to increase their focus," Clausen said. "You stand on the beam, and in this ADD generation, it is hard to focus on the beam and you're looking everywhere else."
Spusta said this isn't the first time the team has done visualization.
"We definitely started to work on it last year," Spusta said. "But this year we've had a big push to make it part of not only our practices but before practice and after practice as well."
Clausen began incorporating visualization after fall break. She would have the gymnasts lie on the mats and visualize. While visualizing their routines, each gymnast has a certain phrase to help them through their routine.
Spusta said before each tumbling pass on the floor exercise she has the cue word "set" to remind herself to push off with her arms while flipping.
Picciano said using visualization and cue words helps gymnasts get negative thoughts out of their head.
"A lot of girls have trouble because they think 'Oh I'm going to fall; don't fall, don't fall,'" she said. "But instead, you think, 'arms up, shoulders square' and then you're thinking about those words instead of those that will throw you off."
Picciano said being first introduced to visualization this year after missing last season studying abroad seemed like an odd concept, but it's paying off.
"I definitely thought it was a little weird, a little strange," she said. "I can attribute a lot of the success I've been having to visualization and positive thoughts."