The history of the baseball program is one with a rich winning tradition. Since its inception in 1931, only four managers have sat in the third base dugout at Freeman Field.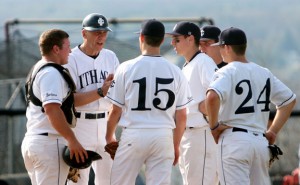 For the past 33 years, Head Coach George Valesente '66 has guided the Bombers on the playing field. After 24 NCAA playoff appearances, two national championships and an induction into the College Baseball Hall of Fame, Valesente recorded his 900th victory with the Bombers 8–6 win against SUNY-Oneonta on April 27.
With an additional 54 wins from six seasons split at SUNY-Brockport, SUNY-New Paltz and SUNY-Maritime, Valesente is one of four active coaches in Division III baseball with more than 950 career wins. He said he wasn't aware he was close to 900 wins as a Bomber until after he had already earned the milestone victory.
"Certainly it's exciting, and I can't believe it's gone by so quickly," Valesente said. "Just to be able to share this with everyone that is involved with the program is really special."
Senior first baseman Trevor Wolf, who has known Valesente since he was a child, said it has been a thrill and a dream come true to play for him.
"He's one of the best coaches you're going to find at any level — college or professional," Wolf said. "He knows everything there is to know about the game, and he really works hard to fine-tune your skills and make you a better player."
Wolf, whose brother Shane '08 also played under Valesente, said helping Valesente get his 900th win meant even more because of his family connection to the program.
"He helped my brother get to the Minor Leagues, so helping him reach a milestone like that is something I'm proud to be a part of," Trevor Wolf said.
Graduate student third baseman David Ahonen said it was Valesente's approach to the game and no-nonsense attitude that attracted him to play baseball for Ithaca College.
"I had a chance to get to know him on recruiting trips, and right away you knew he was a great motivator and a true leader," Ahonen said. "I've never seen him fooled by a situation or not know what to do in a particular spot."
Ahonen said Valesente makes it a point to challenge players and make them respond to adversity, which is part of the reason the players think he has been so successful.
"He wants to find guys that can respond to a challenge and perform under tough conditions," Ahonen said.
Valesente credits most of his success in the program to all of his assistant coaches and the countless players who put on the Bomber uniform during his tenure.
"This is by no means an individual accomplishment, and so many people — from the support staff, to the assistant coaches to the players — helped make this happen," he said.
Valesente said he wanted to thank his wife, Diane, for her love and support throughout his entire career, especially while he was on the road with the team.
"Coaches are away a lot, and without her I wouldn't be where I am today," he said.