After dominating the Empire 8 championships — in near apocalyptic weather — for the fifth straight year, the women's track and field team is working toward its next goal — NCAAs.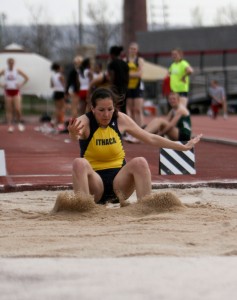 Temperatures at Empire 8s, hosted by Rochester Institute of Technology on April 17 in Rochester, N.Y., hovered in the low 40s all day with constant gusting winds of up to 30 mph and periodic rain showers.
Emma Dewart said the Blue and Gold have been dealing with inclement conditions all season.
"The weather has been unfortunate this season, as far as the snow and the wind, and the rain and the cold," she said."But I feel like it makes us stronger athletes and a stronger team in general."
The South Hill squad persevered through the weather and defeated runner-up RIT by 130 points, 250–118, with Stevens Institute of Technology finishing third with 94 points.
Junior Ashley Dlubac had a breakout performance at the Empire 8 meet in the javelin setting her first personal record since freshman year, breaking the meet record. Dlubac said it was a memorable moment when she realized how far she had thrown.
"I knew it was going to be a good throw, but I didn't realize how far it was until I walked out to go retrieve the javelin," she said. "I was pretty shocked when I saw how far it was."
The South Hill squad's success at the Empire 8 meet was fueled by several athletes stepping up and turning in top times earlier than previous seasons.
"Normally I don't run those kind of times until late May, so I was really excited that they came at the end of April," senior sprinter Marcia McCord said. "I'm really looking forward to trying to be on top of the podium this year."
Dlubac said it's good to have a large group of athletes hitting national caliber marks.
"It's pretty exciting for me personally because I know Emma and Marcia and Kate Leugers have had a lot of experience there," she said. "It's just exciting to be able to join them at nationals."
McCord said even though the Blue and Gold have won the Empire 8 outdoor title the past five seasons, the victory still has meaning to the athletes.
"It's really cool that they go out there and show what they can do," she said. "They're kicking butt whether or not they're qualifying for ECACs or nationals. It still means a lot to everybody that we come to this meet and we're the champions and we're the team to beat."