This time every year heavy breathing and constant panting fill the outskirts of Ithaca College as athletes young and old navigate the wooded terrain.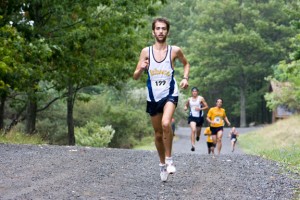 Dozens of alumni gathered on the fields behind the Terrace Residence Halls for the
annual Jannette Bonrouhi-Zakaim Memorial Alumni Run Saturday at the Ithaca College Cross Country Course. This run marked the start of the men's cross country team's season, as it goes up against Bombers from 1967 to the present.
This run allows the 2010 team to get in one last informal competition before its first race of the regular season at Penn State
University's Spiked Shoe Invitational at noon Saturday in University Park, Pa. Instead of the usual 8 kilometers, the alumni run is just 5 kilometers, but it still gives the athletes a good indication of where they are physically.
Senior captain John Davis said the run gives the team its first taste of competing as a unit.
"It's a tune up type of thing," he said. "Just seeing where we pack up or group together. It's the first step toward real competition."
With ages ranging decades and many runners looking back on their college careers, the athletes get a mixed bag of competition. But traditionally, a couple of alumni creep into the top 10.
"It's a chance for them to see how we're doing and compare themselves as well," Davis said. "Some of them do give us a run for our money."
The Bombers pulled out the win at this year's race, claiming seven of the top 10 spots. Graduate student Bill Way set the pace, posting the overall fastest time of 15:47.00.
Head Coach Jim Nichols said having Way on the team this season, after working with him on the track and field team last spring, is a nice complement to the senior leadership.
"It's nice to have Bill Way running," Nichols said. "He's a talent that has been under the radar."
As their feet pounded the foliage and wood chips around South Hill, there was more of a sense of urgency for the Blue and Gold. The Bombers will take only seven athletes to Penn State, a race that features not only Division III, but Division I teams as well.
Nichols said the race is a selection process for the Penn State invitational. If the team is working to qualify for the NCAA Championships in Waverly, Iowa come November, this weekend's race is a way to see where the team finishes as a unit.
"We think we are good enough," Nichols said. "We want to get the national experience. I laid it out to the guys last spring that that was what I was thinking. The seniors took that to heart and did a nice job over the summer training. You can see from the results this past weekend."
When it comes to going up against the competition at the Division I level, the Bombers will look to use this weekend as a foundation to build off of. Senior Dan Craighead said the level of competition at Penn State is something the team has seen previously.
"We've raced some Division I people before," he said. "Everybody out there is just a runner. When you really look at it, it doesn't matter what school they go to."
In terms of deciding who ultimately gets to compete this weekend, Nichols said there are several factors he takes into consideration before making his final selection Friday.
"We'll see how they've been training the last couple weeks," Nichols said. "How they performed in the meet and how they've been practicing will probably determine who we are going to take. Injuries and things of that nature will play a factor in that."
For those competing to be one of the seven chosen to travel to University Park, the alumni race meant a little more this year. Senior Tyler Gustafon said since the team has not competed at Penn State since 2005, getting there will be a first for everyone.
"None of my teammates, [including myself,] have run at Penn State [University]," he said. "We just have to go out there and achieve our personal goals."
The South Hill squad didn't crack the top 10 in the U.S. Track and Field and Cross Country Coaches Association Preseason Regional rankings, so the Bombers are out to prove themselves this season.
"Right now we're kind of underrated in our region," Davis said. "Our goal is to go out and let people know who we are."