The women's basketball team is opening its season with a challenging non-conference schedule to prepare itself for a late-season stretch run of Empire 8 Conference games.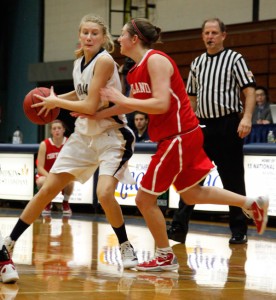 The front end of the Bombers' regular season schedule is packed with tough opponents from outside the Empire 8. This season's non-conference opponents include the University of Rochester, NCAA playoff qualifier Baruch College, St. Lawrence University and rival SUNY-Cortland.
Head Coach Dan Raymond said he looks for opponents with recent playoff experience when setting the team's non-conference schedule.
"The opponents we play in our non-conference schedule are some of the best teams, not only in our region, but in the country," he said. "Generally the teams we see from out-of-conference are bigger, and we really want to play against those kinds of teams."
The Bombers' non-conference opponents last season included Rochester, which was ranked fifth in the nation at the time, and a Red Dragons team that was unbeaten. The South Hill squad went 6–5 during its non-conference stretch last season and then won 15 consecutive games in Empire 8 play.
Sophomore guard Kathryn Campbell said the team's defense matured during the eight games outside of the Empire 8 last season.
"Some of our non-conference opponents were definitely bigger," Campbell said. "We also played some teams that were really fast and prepared us on defense for what we were going to see in conference."
Senior guard Jessica Farley said she and her teammates are familiar with their conference foes, but the non-conference games this season have given the Bombers different lineups to prepare for.
"We saw more zone than what we're used to and from what we've seen in previous years," Farley said. "Medaille played zone almost the entire game up until the last 10 minutes. That helps us because in practice we play a lot of man coverage."
Though the easiest way to qualify for the NCAA Tournament is to win the conference, Raymond said winning games outside the Empire 8 can be beneficial when the team needs help earning a playoff spot.
"We generally try to play the top teams in the country, because once we get into the conference our strength of schedule has dropped, and there's really nothing we can do about that," he said. "If we had beaten just one or two of those top teams from out-of-conference, we probably could have gotten an at-large bid."
Raymond said the beginning of this year's schedule could be tougher than last season. The Bombers have already defeated Medaille College, a 2010-11 NCAA playoff team, and Cortland en route to the Blue and Gold's first 5–0 start in 14 seasons.
SUNY-Cortland Head Coach Jeannette Mosher said she scheduled the Bombers to face her team so that the Red Dragons could acclimate themselves to the physical play that comes with the annual contest.
"They're always very tough games, and it's such a battle that the quality of play might come across as ugly at times," Mosher said. "But I think it's just because of the rivalry. It's always a game that shouldn't be difficult at all for the players to get up for."
Raymond said the Bombers' performance against the remaining top-notch non-conference opponents are used as teaching tools for Empire 8 play in the latter portion of the season.
"Even though we didn't play well against a team like Rochester, our kids figured out what they had to do to play the best they can against any opponent," Raymond said. "I think that's how you prepare them to play their best, no matter who they play against."