On the way to a perfect 7­­—0 start in Empire 8 Conference play, the women's basketball team has been able to build huge leads before any fans have gotten comfortable in their seats.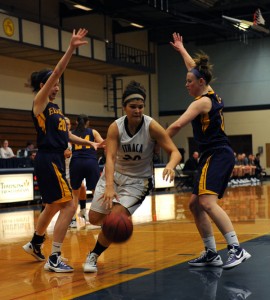 The Blue and Gold have sent each of their opponents to the locker room with an average halftime deficit of 19 points during the winning streak.
Head Coach Dan Raymond said the South Hill squad's first-half dominance was a result of shutting down opposing offenses in their first possessions of the game.
"We take away teams' first options, and that makes it very difficult for them to get the scoring opportunities they're looking for," he said.
The Bombers' Empire 8 opponents, including top five conference teams such as Hartwick College and Nazareth College, have averaged a first-half shooting percentage of just 26 percent so far. Raymond said his team always starts its games with the goal to keep the opposing team out of the paint area. This strategy forces perimeter shots or drives into the long arms of sophomore forward Jenn Escobido and junior forward Devin Shea.
Assistant Coach Alex Ivansheck, who prepares the scouting reports for the team, said this year's group of players has recommitted themselves to studying opponents.
"This year's been a lot more successful than in previous years in terms of film and scouting reports," Ivansheck said. "The athletes are really taking it seriously and take it upon themselves to watch the tapes."
A lockdown defensive effort can often lead to easy points at the other end of the court. Sophomore guard Kathryn Campbell said the Bombers' ability to keep opponents at bay helps the Blue and Gold find their rhythm during offensive possessions.
"When we get all of these defensive stops, it allows us to make some mistakes on offense and still be able to recover," she said. "And it also allows us to get into the fast break and find our comfort zone to make some shots."
An airtight defense combined with a lightning-quick attack on offense can be an overwhelming matchup, and other teams in the conference have fallen victim to it. Hartwick Head Coach Missy West said the Bombers were able to seize control early in the Hawks' 63-49 loss Jan. 13.
"They came out very poised and composed and played better than us on every possession," West said. "We came out flat, got down early and had to change our defense. We started out in a 2-3 zone and had to switch to man-to-man. "
Raymond said he has been preaching the same principle of staying focused on present situations in every game to prevent opponents from creeping back in the game.
"We talk about winning every possession," Raymond said. "We don't play to the scoreboard, but we play to win every possession on both ends of the floor."