Senior defensive back Mia Muzio chases down the Utica College player carrying the ball as senior defensive back Key Fox yells out, "double." Muzio runs alongside the opponent while Fox goes in for the block tackle. The field hockey team comes up with the ball and sprints down the field, looking to score a goal Saturday at Yavits Field.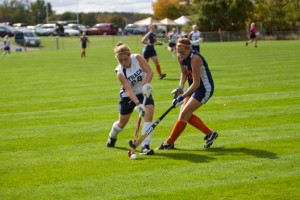 Double-teaming is one of the most effective ways to get the ball back and transition to offense. From the first day of practice this year, Head Coach Tracey Houk and Assistant Coach Lindsey Hendricks have emphasized the importance of double-teaming.
Houk said the Blue and Gold's zone defense this season plays to executing this technique.
"Double-teams are vital to our success," Hock said. "Playing a zone allows us to use the support from our teammates to double team for the ball."
Muzio said it's something the team has been focusing on since preseason.
"It is definitely something that we've been working on consistently throughout the year because it is such an important part of playing defense," Muzio said.
The South Hill squad is benefiting from double-teams in play because of the scoring chances they create, junior midfielder JulieAnne Butare said.
"They're allowing us to regain possession on our attacking end, which allows us to capitalize and get the ball back into the offensive circle to take the shot," Butare said.
In games, the Bombers will yell for the double. One athlete will run along the opponent, forcing her toward the sideline, and then another player on the team will come in for the block tackle. Communication is essential to the success of this move Muzio said.
"In order to double-team you need to know who is forcing direction and who has ball," Muzio said. "So without communication you couldn't double-team."
The Bombers double-team all over the field. It is a technique used by all players on the team — regardless of whether they play offense or defense.
Sophomore forward Julia Conroy said double-teaming is something that depends on the forwards transitioning from offense back to defense.
"Everyone needs to play defense when the other team has the ball," Conroy said. "We all play forward, and we all play defense — it just depends on who has the ball."
The Bombers use double-teams most often in areas of transition, usually between the two 25-yard lines. Players try to avoid double-teaming in the circle because they don't want the other team to get a corner.
"In game situations, even forwards can play defense," Muzio said. "When it comes to double-teaming, two forwards may have to double-team to get the ball away from someone."
As the Bombers move into the bulk of their schedule, Fox said each athlete is recognizing when to double-team and capitalizing on those opportunities in game play.
"Now not only do we understand it, but we are beginning to carry over that knowledge into our games," she said. "It's definitely translating into our game play, which is really nice to see."