The gymnastics team will be thinking about more than just balance beams and floor routines when it takes to the mat Saturday in Ben Light Gymnasium.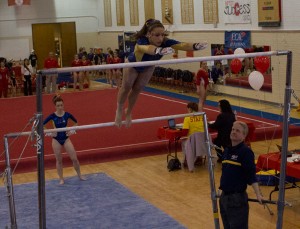 They'll be focusing on raising breast cancer awareness to commemorate the late Harriet Carnes Marranca, who began the Bombers' varsity gymnastics program in 1968.
The annual Harriet Marranca Memorial Invitational will be a tri-meet with SUNY-Cortland, Wilson College and Rhode Island College. To honor Marranca's struggle with breast cancer, the team will continue a six-year tradition by collecting donations for the disease and wearing pink leotards and ribbons.
Senior captain Kim Callahan said while the leotards will still represent the team's Bomber pride, they truly want to express the importance of a cause they are proud to support.
"These days it's so relatable, so raising awareness is really important and special to us," Callahan said.
Marranca retired from teaching at Ithaca College a few years after the end of her coaching career, and she passed away in 1996 after a long battle with breast cancer. She coached the Bombers for 15 seasons, recording 68 wins and 47 losses in dual-meet competitions in addition to two state championships and two top-five finishes in the Association for Intercollegiate Athletics for Women Championships. She became the first person ever to be inducted into the Ithaca College Athletic Hall of Fame for gymnastics, in 1999.
In addition to their apparel, the senior class will also pin a breast cancer ribbon onto every underclassmen's warm-up jacket. The team will also commemorate its late coach in an opening ceremony during which Head Coach Rick Suddaby will detail her contributions to the program.
Suddaby said he hopes to help Marranca's spirit live on in the program by using her charitable ways as a part of his coaching habits.
"Even in her illness she thought about how to give back," Suddaby said. "It really inspired me, and I believe she is watching over this program, so I want to keep her giving nature alive."
While the team plans to recognize Marranca for her success and contributions to Ithaca gymnastics, other members of the team have faced breast cancer within their own families, making this meet even more significant to them.
Senior Kay Gordon had an aunt who died of breast cancer during her sophomore year. Gordon said her aunt pushed her to become the gymnast she is today.
"All three years that I have been competing I have been thinking about her the whole time, and it brings more meaning to my gymnastics," she said. "Watching my aunt go through the struggle put perspective on my gymnastics because it gives me more motivation to push through the difficulties I face."
Malory Cleary, the mother of former Bomber gymnast Caitlin Cleary '11, will speak to the audience about her battle with breast cancer after Saturday's meet. Malory is a breast cancer survivor and she will be at the meet for the fourth consecutive year to share her story.
Senior captain Tiffany Grube said Malory's words move everyone in the room when she discusses her struggles with the disease.
"Her speech every year brings everyone to tears," Grube said. "It brings you back to the reality that there are people out there fighting so hard in that battle."
Grube said the Bombers know Saturday's invitational is about more than finishing with high scores.
"Being in the pink leotards reminds us there is more to life than just gymnastics," she said. "We want to support a great cause and honor a great coach that our school has had."