In the past four seasons, the women's soccer team has averaged 59 goals per season and is already outscoring opponents 20-5 through five games this season. But the Blue and Gold's defensive play often flies under the radar in their blowout wins.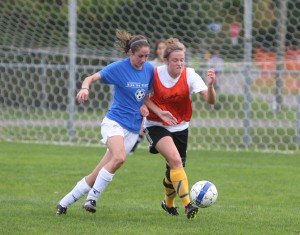 The Bombers have allowed more than one goal in just one game so far this year, a 2-2 tie at Elizabethtown College, leading them to an overall record of 5–0–1.
Junior goalkeeper Becca Salant has been a key component of the defensive unit with 50 saves and a goals against average of 0.83 this season. She said her performance in goal this season is a direct result of her teammates' abilities to execute in situations where opponents have a chance to score on her.
"I feel confident in my team to prevent the other team from scoring during corner kicks, free kicks and other goal scoring situations," she said.
The South Hill squad has scored first in five out of its six games this season. Salant said getting on the scoreboard early helps her and the rest of the defense because they do not have to worry about playing from behind.
"We always try to score the first goal to set the tone of the game and have the momentum on our side," she said. "This takes some pressure off the defense, which lets us be more confident and relaxed and play our game."
The Bombers' defense has only let up two equalizing goals this season. Sophomore back Meredith Jones said the team's defense played its best during the first two games against Elizabethtown College Blue Jays and The College of New Jersey Lions. She said the 2-1 win and the tie showed a more complete effort on defense rather than the hard work of a few players.
"We defend as a team, so someone always has your back, and everyone's ultimate goal is to stop any and all goal scoring opportunities from our opponent," Jones said.
Sophomore back Alex Liese said the Blue and Gold's wins do not come from a unit of defensive players, but from the team as a whole  — from the forwards to the goalies. She said the defensive alignment falls apart when players have to compensate for one another in their assignments on the field.
"When a player isn't defending, the whole scheme falls apart because everybody has their own individual assignments that affect the other players on the field," she said. "If everyone holds strong, then each player can focus on their own responsibility."
Senior back Marla Schilling said she has more confidence in the defense than she has had in past seasons because of their chemistry on the field.
"We are communicating with each other and really defending well as a unit," she said.