An entire regular season of doubleheaders reveals whether a team can not only win games but play consistently.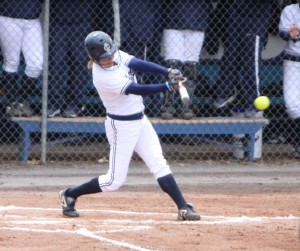 The softball team has been struggling with irregular play this season, falling into a pattern of playing a close game in one part of its doubleheader and then crushing its opponent in the other.
Senior second baseman Kait Dolan said the team is playing with the same intensity as last season, but it is not getting enough runs on the scoreboard in the early innings to build confidence.
"Having a one-run lead never makes anybody comfortable," she said. "We always tried to chip away at the other team's pitchers, but a lot of times we couldn't get the early jump we wanted."
The Bombers have more often than not been on the losing end of close games, with a subpar record of 3–5 in one-run contests heading into last week's matchup against SUNY-Oneonta.
The South Hill squad swept Oneonta by scores of 1–0 and 8–1.
Dolan said the Bombers played with more of an edge in the one-run victory than they have in past losses.
"You have to be aggressive to begin with if you want to force a mistake," Dolan said. "Whether it's a missed throw because of a tight play at a base or getting hit by a pitch because you're crowding the plate a little, you have to play aggressively all the time."
The Blue and Gold have not won a game in which they had more than one error. The defense averages three errors in the team's losses compared to one in its victories.
Head Coach Deb Pallozzi said the defense is able to stay consistent no matter what the score is because of the positive vibes that come from the dugout.
"That energy level feeds onto the field and helps us to a higher level of play," she said. "When we don't have that enthusiasm it can be a struggle."
When each athlete bats, players on the bench shout a cheer based on that player's name or number to show support throughout the game.
Freshman designated player Jackie Branco said the team's energy helps her stay focused at the plate during a tight game.
"Going up there knowing you're a Bomber and having all these teammates cheering for you on the bench — that they believe in you — contributes a lot to my motivation to succeed and not let anyone else down," she said.
The Bombers found their offensive power in their sweep against Nazareth College this weekend, scoring 21 runs in 11 innings.
Pallozzi said though she was concerned with the team's lack of consistency in doubleheaders, the Bombers made their swings more level and had heightened awareness on the base paths in their Empire 8 conference sweeps.
"You want to find your stride toward the middle of the season so hopefully by the end of the year you're playing your best softball," she said.