The field hockey team has already established that this season will look nothing like last year's. The Bombers have reshaped their squad after the graduation of five seniors and the addition of nine freshmen, taking the field this season with a new formation.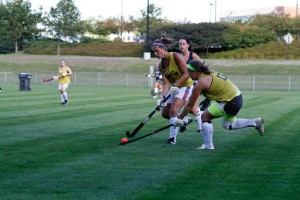 Switching to a five-forward, three-midfielder and two-defensive back formation, the Blue and Gold will look to focus on maintaining possession and precision passing with this new formation. The arrangement should create more scoring opportunities for the Bombers because of the increased number of forwards, while relying on those players to also get back on defense to control the tempo.
"It allows us to collapse when the ball gets turned over in the attacking end and immediately get it back," senior defensive back/midfielder Cathlin Fitzgerald said. "[It's] a really big change. A lot of the time we're looking for the longer passes, but now it's focused on short, quick passes up and down the field."
One reason the team is able to stack the forward line with five players is the depth and confidence the squad has in its defensive backs. Senior defensive backs Mia Muzio and Key Fox will look to drive the team forward from the back, something this formation caters to.
In last year's formation, Muzio and Fox didn't usually make it up the field on the offensive end, but in the new system, they're going to be pushing past the 50-yard line.
"We are playing on the offense and defense, which is great," Muzio said. "We love playing defense obviously and that's our main goal. But to get up the field, just to see what's going on there is a great experience. "
This new formation will allow the Bombers to utilize the strength of their defensive line to create turnovers and scoring opportunities.
"As the other team is coming down the field, what we want to be doing is basically cutting the field in half and just pushing them to the sidelines," Fitzgerald said. "Then when you come back, because we have the two defenders back there, you just have a double-team setup, and then everyone recovering behind."
Getting back to defend, even with the depth on defense, will be important for the Blue and Gold, after facing 360 shots last season — the most shots the team has seen in a season in the past eight years.
"As far as shots on us, I wouldn't say [the new formation] necessarily helps it, but we're going to be able to defend it," Fox said. "We're doing a good job of supporting each other and supporting the line in front of us."
The team used its new formation in a scrimmage against SUNY-Cortland's varsity and junior varsity teams, as well as Utica College's varsity team, Saturday in Cortland, N.Y. Muzio said the team is already adapting to the new formation and how to execute its strengths.
"We fell into the formation a lot better than anyone thought we would," Muzio said. "It seems to work a lot better than what we've been doing in previous years. It's a lot more offensive, which is something that we need to be doing."
Finding an open teammate is crucial in the new formation because players are positioned in a way that relies on quick, short passes.
"Because of the way we're playing it's a lot of triangles," Muzio said. "You have one person open and another person open and another person, so it allows us to move the ball upfield in a much more efficient way than we have previously."
Because the Bombers are adjusting to their new look, knowing from the start that the team needs to recover on defense and hustle up the field to succeed is important, Fox said.
"Since it is a new formation, it's always interesting to see where things work and which combinations of players work together," Fox said. "You can see where other teams might be like, 'Oh, this is their weakness. We can get them here,' but at the same time, we're recognizing those weaknesses and compensating for them."
Coming off a season where the team finished 5–12, both Muzio and Fox said this new formation should create more scoring from the start, and ultimately, more wins.
"I'm glad we're playing this way," Muzio said. "It's going to equal more goals, morale's going to boost, and our game isn't going to be, 'Let's play defense against these hard teams.' It's going to be, 'Let's play offense against these hard teams.'"