After several lineup changes, the men's tennis team is looking for the right combination for the third doubles slot in its rotation.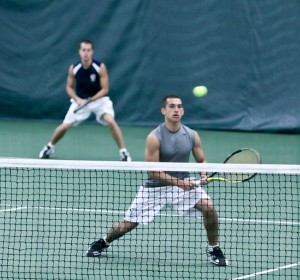 Getting consistency out of its third doubles partners has been a challenge for the Bombers since junior Josh Berggrun left to study abroad in London for the spring semester. The team has gone 7—4 at third doubles this spring without Berggrun and hopes to get him back before the Empire 8 Championship tournament May 5 and 6.
Berggrun earned all-Empire 8 second team honors for singles in his sophomore year and earned the same distinction for doubles play after his freshman season. Senior captain Dan Levine said the Blue and Gold miss Berggrun's leadership and sense of humor. He believes the junior's return could be coming at just the right time.
"When we get Josh back it will definitely solidify our lineup," Dan said. "It will make us a lot deeper as a team, and the chemistry will definitely be a lot better. We're definitely looking forward to getting him back for the Empire 8 Championships."
In the meantime, Head Coach Bill Austin has been tinkering with the lineup to figure out a successful duo. Freshman Justin Levine, Dan's brother, has been involved in six matches at third doubles, but his partners have been mixed and matched throughout the season. Justin has been paired with four different players: freshman Derryk Williams, sophomore Ryan Zuckerman, junior Kyle Riether and his current partner, sophomore Griffin Reid. Justin and Reid appear to be a suitable pair after winning their last three doubles matches together.
Dan said the turmoil at third doubles has disrupted his younger brother's ability to play comfortably.
"It's hard for one of our freshman because we keep throwing new partners at him and he can't get any flow," Dan said. "Playing with the same partner gives you more of a rhythm. The more you play together, the more you get to know where each other is on the court and what your strengths and weaknesses are."
Sophomore David Andersen said there is a lot of intuition involved with doubles that demands a consistent partnership.
"Singles is a little bit easier I find, just because you're out there problem-solving for yourself," he said. "You really have to work with the team in doubles, and you really have to know your partner pretty well."
Dan said having Riether next to him on the court for the past few matches has given him a boost in confidence.
"Kyle Riether and I are in a pretty good rhythm right now," Dan said. "Bringing chemistry onto the court was pretty natural for us because we're such good friends off the court."
Friendship off the court has been a common denominator for the Bombers' more consistent doubles partnerships. Senior captain Jimmy Newton said his camaraderie with Andersen has made them a natural fit at first doubles. Newton and Andersen have played together at first doubles for 10 of the Bombers' 11 matches this season.
"Our team is really close," Newton said. "We hang out a lot together on and off the court, so that not only helps with David and I but with everyone else on the team as well."
Doubles matches provide fewer margins for error, as they last just one eight-game pro set compared to two six-game sets for singles matches. Newton said one mistake in doubles could be the difference between a win and a loss.
With just more than a week remaining until the Blue and Gold host the Empire 8 Conference Tournament on the Wheeler Tennis Courts, the pressure is on for the team to find a consistent answer at the back end of its doubles lineup. For now, Andersen said the South Hill squad is keeping focused on its goal of winning regardless of who the partners are in its doubles.
"We all go into the mentality that no matter who we're playing with, we all want the same thing — we all want to win," Andersen said. "We just focus on playing as well as we can, and the rest will take care of itself."