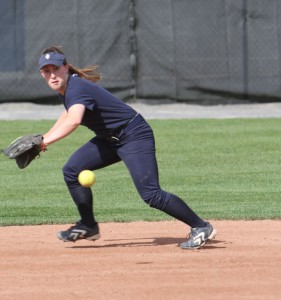 In the Bombers' fifth game of the year, a 5-2 win against Manhattanville College on March 14, sophomore outfielder and second baseman Julianne Vincent drew a walk with the Bombers leading by one run, then stole second and third base. She later scored on a base hit by freshman shortstop Francesca Busa to put the Blue and Gold up 2-0.
Vincent said the South Hill squad has had a tenacious mentality on the base paths during all their games this year.
"We always try to look for the open base, and we try to take an extra base because we're never satisfied until we can score a run," she said.
The Blue and Gold have a success rate of  85 percent on the bases, as they have stolen 29 bases in 34 attempts this season. Vincent leads the team with eight steals this season. She said she has learned to exploit recognizable signs from opposing pitchers.
"If we recognize if a pitcher is throwing a changeup and we can see it coming out of her hand, we and a few of the other girls with good foot speed will just take off," Vincent said.
The Bombers have a record of 6—3 when they steal two or more bases in a game, and their ability to stretch base hits and score extra runs has also kept them in games. The Blue and Gold had nine hits in Game 1 of their Empire 8 doubleheader sweep against St. John Fisher College on Saturday, and eight of them were for extra bases.
Head Coach Deb Pallozzi said she has used pinch runners late in games this season to provide the team's hitters with a spark.
"They perk up when we start using the short game and start stealing and getting on base," Pallozzi said. "Sometimes the people who get on base the most aren't as quick, so we can utilize more younger and faster players to get on and get things moving."
Base running has been a staple in each of the South Hill squad's indoor and outdoor practices this season. Freshman outfielder Nina Lindberg, who Palozzi has used often as a pinch runner, said the team practices with base runners when
preparing plays for the infield.
"It helps being involved in the play, even if you are not the one who gets on base all the time," she said. "It also helps prepare for different situations that happen in the field both on offense and on defense."
Vincent said she is beginning to notice opposing infielders communicate with others when she reaches base, but she said this recognition does not decrease her aggressiveness on the bases — it only fuels it.
"It pumps me up more because if they know I have speed and they're aware of it, when I slide in safe it makes it much more exciting," she said.