The men's indoor track team learned not to dwell on past mistakes as it darted its way through the higher levels of postseason competition during the indoor season.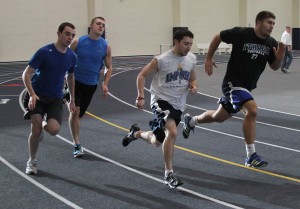 The team committed penalties during the final two weeks of the indoor season at the New York State Collegiate Track Conference and Eastern College Athletic Conference Championships. Sophomore Jake Willis cost the team points at the state title meet Feb. 24 and 25, when he was charged with a lane violation in the 200-meter dash. The loss in points ended up being costly for the squad as the Bombers ended up finishing in second place by 5.5 points.
Senior Doug Koury said it was important for Willis to get past his mistake in the 200-meter dash when Willis competed on the 4×400-meter relay team.
"We told him to run and show why he should have qualified in the 200-meter," Koury said.
Willis and the rest of the relay team — Koury, sophomore Brennan Edmonds and freshman Matt Killian — earned first place with a time of 3:26.61.
Koury said he saw encouraging signs from the competitors at the indoor season's regional meet Friday and Saturday.
"Everyone performed better than they were supposed to on paper," he said. "Guys who qualified for ECACs earlier in the season and may not have competed at that same level for the remainder of the indoor season were able to regain some confidence."
Though Koury said the runners experienced fatigue during the two-day meet, the support of teammates who attended the meet but did not compete helped the runners move ahead of 50 schools to finish in 13th place.
"The competition provided a great morale boost and some great team unity," he said. "Even the guys who were not competing were involved, and that brought everybody together."
The team displayed its confidence with a nearly record-breaking finish in the 4×800-meter relay. The group of junior Matthew Kastler, freshman Mason Mann, junior Billy Savage and freshman Dennis Ryan finished third in the event with a time of 7:52.30, which was just .65 seconds slower than the program record.
Edmonds said the South Hill squad will work off the athletes' high finishes at last weekend's meet to improve on their times and distances in the future.
"Coming off of some great performances from the guys who competed, everyone will be motivated to better their marks and raise their standards for the outdoor season," he said.
Despite their impressive performance at the regional meet, none of the Bombers qualified to run at the NCAA Championships this weekend.
Mann said though the Bombers are better than their regional finish, they are looking forward to beginning the outdoor season.
"Coach Nichols keeps saying not to try too hard," Mann said. "You need to enjoy it, and you'll perform at your best if you're relaxed."