The women's basketball team remains undefeated after beating Empire 8 Conference opponent Elmira College 66-46 Tuesday in the team's first home game in Ben Light Gymnasium.
Sophomore guard Ally Mnich said the team was happy to finally play on South Hill.
"I'm not going to lie, I really missed this ugly gym, but it feels good to be home," Mnich said. "We had a good crowd today, so that was surprising."
The Blue and Gold struggled for the first five minutes of the game, only making one of eight shots on the court and one for two from the foul line. Junior guard Kathryn Campbell said the reason for the slow start was because of poor shot selection.
"We were trying to shoot outside a little too much," Campbell said. "Once we started going inside, we became more successful."
Sophomore forward Geena Brady was able to come off the bench and score eight points on four of five shooting, igniting the spark the Bombers needed to pull away for the rest of the game. Campbell said Brady has been great off the bench this season.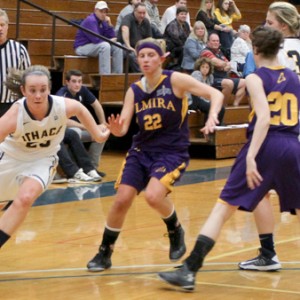 "[Brady's] obviously a big presence inside when she plays hard and rebounds and gets those baskets to help the team out," Campbell said.
Sophomore guard Samantha Klie and Mnich also made a big impact off the bench. Klie led the team in assists with seven, while Mnich had 11 points — the second highest total for the Blue and Gold in the game. Klie, Mnich and Campbell each had three steals.
Mnich said the players coming off the bench were able to play well because they know what is expected of them.
"A lot of us have accepted our roles on the team," Mnich said. "Personally, defense is my thing, so I like bringing a lot of energy on defense and getting everyone else to have good energy."
This was the first Empire 8 game of the season for the Bombers, and Brady said the team wanted to make an early statement to its rivals.
"By winning by 20, we're showing the conference that we're here to play, and we aren't going to take it easy on anybody," Brady said. "We just want to keep rolling through all the way into the end of the season."
The Blue and Gold's home opener victory was the third time the team has won by 20 or more points this season – the other two being against Skidmore College and SUNY Cortland. The South Hill squad is back on the road Saturday when they take on Baruch College before returning home Dec. 10 to host Medaille College.