When Rick Suddaby got his first head coaching job at Ithaca College in 1986, he asked his girlfriend, Kim, to help out when she could. Rick had known Kim since he was graduate assistant coach of the SUNY-Cortland gymnastics team. The two married in 1988 in Muller Chapel and have been coaching the college's team ever since.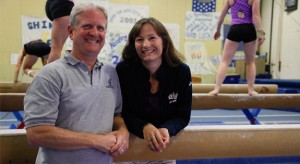 Rick and Kim Suddaby are one of three married couples who coach teams together at the college. Men's crew Head Coach Dan Robinson also met his wife, Becky, when she was an athlete on the women's crew while he was coaching at the college. Becky is currently head coach of the women's crew. Dan Wood is head coach of the women's golf team, and his wife, Sandy, is a volunteer assistant.
Though all the coaching couples lead different teams, they have all overcome their own obstacles in balancing work and personal lives.
Rick said coaching with his wife works well because the two have established who is in charge at what times.
"You've got to have the lines drawn," he said. "Whenever we disagree, I win in the gym, and she wins at home."
Rick and Kim met when Kim competed on the gymnastics team at SUNY-Cortland and Rick was a graduate assistant. Rick said he gave up being the assistant coach for the Red Dragons so that he could have a relationship with her.
While Rick has remained head coach for the Bombers since 1986, Kim has served as a volunteer assistant, paid assistant and even as a rival coach for the Red Dragons. Kim said the two organized an event between the two teams in 1990 to build the players' competitive spirit.
"There's always been a rivalry between Cortland and Ithaca, and it was pretty negative," she said. "We ended up having a volleyball tournament between the two teams, and we got them to get to know each other and make it a positive thing."
But when Kim started working alongside her husband, she could not be a paid assistant coach for the Bombers because of the college's nepotism rule. The rule forbade a relative from supervising another relative to avoid any conflict of interest or favoritism, but an exception for Kim was made two years later.
Becky Robinson said she enjoys working with her husband, who she married 16 years ago, because they get to see each other every day.
"It's good that we work together because if we didn't, I don't think we'd see each other often," she said.
The husbands and wives have familiarity with each other, which helps them communicate well with their teams. Dan Wood said he can anticipate what Sandy is thinking in many situations.
"I don't have to spend any preliminary time saying 'Well what do you feel about that, or what do you think about this,'" he said. "I probably know 90 percent of what she thinks before she even has to say it."
Dan Wood was born and raised in Ithaca, but he did not meet Sandy until he was touring on the PGA circuit in Florida. She was a physical education teacher in the area. The two decided to move from Florida to Ithaca after Sandy had retired because they wanted to help establish a collegiate women's golf team in a small town and give their relationship a new beginning, Dan Wood said.
"Ithaca College was the first college to offer us a job where we could work together and start from scratch," he said.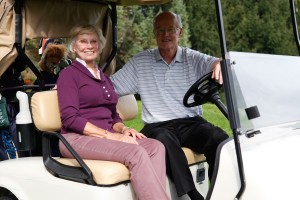 Conflicts have arisen for the couples when it comes to making decisions for their teams. Kim said she and Rick were split over the selection of the sixth and final gymnast that would compete on the balance beam at the national championships in 1998.
"I was 100 percent for one person, and he was 100 percent for the other person, and I said 'You're the head coach, so what you say goes,'" she said.
The decision to put Liz Horne '00 in the competition worked out for the best, as the Bombers went on to win their first and only national championship in gymnastics.
Dan Wood said he and Sandy work well as a coaching couple because they can delegate tasks to each other and split up responsibilities.
"We avoid clashes by splitting up the duties," he said. "She is more of a short game specialist while I'm more the full swing guy."
Graduate student Justine Picciano said there is usually an entertaining atmosphere at practice with Rick and Kim, but they each bring their own coaching styles to the table.
"Rick is more, 'This is what you've got to do and let's get it done,' and Kim brings the flavor and the fun by playing music that gets us going," she said.
Kim said she and Rick's respect for one another is what has kept their coaching relationship working for more than two decades. He said having Kim in the gym with him has helped him to maintain his enthusiasm for coaching.
"She is so fun and happy to be here," he said. "Sometimes I get into a lull because I'm here all the time, but because she is only part time she comes in with all this energy, and so then I try to emulate that as a coach."