Instead of preparing for another afternoon road game last week, the football team was at home getting some much-needed rest.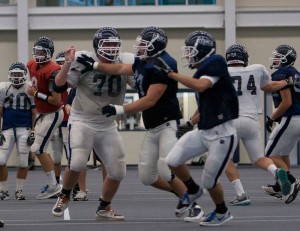 The Bombers, without a game slated on the schedule, experienced their only bye of the season this past week.
The bye week's timing is noteworthy, as this was the earliest it came up on the Blue and Gold's schedule since the off weeks were implemented in their schedule for the 2006 season.
Linebacker and senior captain Ryan Clarke said the time off the field will not affect the positive rhythm the Bombers had built coming off a decisive 37-18 win against Union College on Sept. 17.
"Going into Hartwick, I guarantee you we're going to carry that momentum over and we're going to stick it to them," Clarke said. "I don't think it's going to affect our momentum at all."
The Bombers have won four out of the last five games coming off the bye week. They have outscored their opponents 174–81 in those five games.
Sophomore fullback Robbie Williamson said the timing of the week was beneficial for resting purposes.
"After having the first few games, it's nice to have it right where it was, just because a couple of guys are getting beat up," he said.
Clarke is one of the key players nursing an injury. The linebacker used the week to undergo knee surgery to clean up torn cartilage. His timetable for return is unknown.
Clarke said the week is valuable for the team because it is essentially an extended week of preparation for its upcoming opponent.
The Bombers have been running back and forth over progressively longer distances at the end of each practice. Fundamentals, mechanics and individual skills have been stressed more in drills.
Sophomore running back Sal Sulla said practices are similar during the off week, but with an added dose of liveliness.
"The tempo of practice is a little bit faster, but we look forward to preparing like if we would have a game," Sulla said.
The team will need the period away from game activity as it gears up for the heart of its Empire 8 Conference schedule. After this Saturday's contest with Hartwick College, the Bombers will face five more Empire 8 games in a row and cap off their season with a game against the SUNY-Cortland Red Dragons.
For the upcoming road game, the Bombers will face a spread offensive attack from the Hartwick Hawks. The game is crucial for the team's playoff chances, as they already suffered one conference loss at Salisbury University.
Sulla said the team has an optimistic attitude coming out of the off week, and its preparation remains unchanged.
"I don't think the bye week will slow us down," he said. "We're still going to bring it with us for the next game. We're still going to keep chugging, we're still going to keep working, so it doesn't really change anything about mentality."