During the past four years, two men's tennis teams have dominated the Empire 8 conference — Ithaca College and Stevens Institute of Technology — rivals that are slated to clash twice in the next two weeks.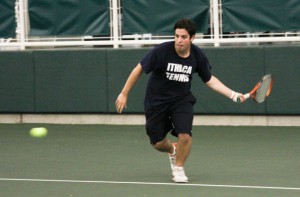 The men's tennis team will travel to face the Ducks on Sunday in Hoboken, N. J., to determine who will be the top seed in the Empire 8 tournament.
The Blue and Gold will host the conference tournament May 7 and 8, which was decided before the season started — regardless of the outcome — at Cornell University's Reis Tennis Center. The Empire 8 champion will earn an automatic bid to the NCAA playoffs.
Since Stevens joined the Empire 8 in Fall 2007 the Blue and Gold have faced the Ducks in the final every year. Stevens holds a 2–1 edge with the title changing hands every year.
Senior Josh Rifkin said the Stevens match is important because it's the final regular season game.
"If you win you have the confidence and the momentum," he said. "If you lose, you can't make major shifts or changes because there is not much time to get used to a new lineup or new positions."
Senior Steve Ochs said the rivalry is intense, but there is mutual respect between the two teams.
"It isn't friendly, we keep the competitive spirit, but their isn't any animosity between individuals," he said. "At the end of the day we shake hands, walk off the court and say, 'See ya next year.'"
The Bombers will be looking to avenge a heartbreaking loss in the Empire 8 finals from this past year. The Blue and Gold were uncharacteristically swept in doubles to put them in an 0–3 hole to start the match and fell 2–5, after defeating Stevens 5–4 in the regular season.
Both the Bombers and Stevens are undefeated in the Empire 8 this year and matches in conference have tended to be blowouts.
Rifkin said Stevens only graduated one senior from its starting lineup this past year, while the Blue and Gold will start two or three players who don't have experience playing Stevens. The Bombers have eight underclassmen on this year's 13-man roster.
Stevens senior Arik Zeevy said Stevens has played nationally ranked teams this season, but the match against Ithaca is still the match he looks forward to the most.
"There is a cool kind of bond there even though it's an intense rivalry," Zeevy said. "The Ithaca match has [that competitive edge] that the other matches don't have."
Junior Jimmy Newton said the new members in the Bombers' starting lineup could be an advantage against Stevens.
"Our one, two and three [singles players] we played against them last year, we know what to expect," he said. "But at the bottom of the lineup no one really knows, so it will be interesting to see if our guys can pull out some of those wins."