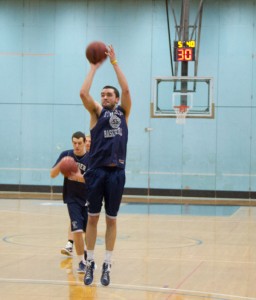 The men's basketball team has turned the taxing task of free throw shooting into an area of excellence this season.
The Bombers are first in the Empire 8 Conference through 22 games, making 73 percent of their free throws. Utica College, which sits in last place, is making less than 60 percent.
Junior forward Andrei Oztemel ranks third in Division III in free throw percentage, hitting nearly 91 percent of his shots from behind the line.
Oztemel said his innovative off-the-court practice inside his house in Westport, Conn., is what has helped him the most. His dad put up a 10-foot hoop in his den for Christmas one year, and he has practiced shooting on it for the past five years.
Oztemel said the most important aspect of making a free throw is the psychological part.
"I always look at it as though it's just a mental thing," Oztemel said. "If you just focus and stay confident and know that you're going to put it in the hoop, usually muscle memory just takes over."
Lately the South Hill squad has been efficient from the foul line. The last time the Bombers shot under 70 percent from the charity stripe in a single season was during their 2005-06 campaign.
Head Coach Jim Mullins said the team's high free throw percentage is a result of getting the team's best shooters, Oztemel and senior guard Jordan Marcus, to the foul line.
Marcus is second on the team in free throw percentage, making 85 percent of his shots.
Mullins said he tries to simulate the pressure of free throw shooting by employing the same drill used by former University of North Carolina Head Coach Dean Smith.
"Before they can leave practice, every kid on the team has got to hit a free throw, but they have to do it all in a row," Mullins said. "If you miss, you have to start over."
Though the Bombers are at the top of the conference when it comes to free throws, opposing coaches are not focusing on trying to limit the South Hill squad's chances from the foul line.
Elmira College Head Coach Randall Torgalski said he focused on keeping his players out of foul trouble in their 70-62 win against the Bombers on Friday, which was the Soaring Eagles' first victory of the season.
"Part of keeping them off the line is not fouling," Torgalski said. "If we foul too much, that means some of our guys have got to sit down. We want to keep our guys on the court rather than foul them."
Mullins said free throws would be essential to the squad's success late in games as the regular season winds down.
"You get to the line, and you're shooting with no one guarding you, so it's pretty important to make them," he said.