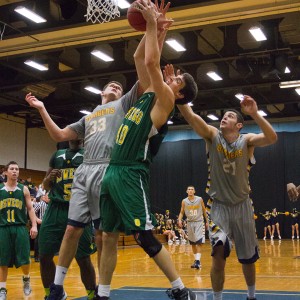 Senior forwards Andrei Oztemel and Travis Warech battle for a rebound against SUNY-Oswego.
The men's basketball team reduced an 18-point deficit to two but fell short in a 64-58 loss to SUNY Oswego on Saturday afternoon at Ben Light Gymnasium.
The Bombers were outscored 19-7 in the first seven minutes of the second half and were quickly losing control of a game they only trailed by six in at halftime. The Blue and Gold (3–3, 1–0 Empire 8) scored 11 of the game's next 13 points over five minutes to make it 48-41 Oswego with 6:15 left in the half. The second half rally had Bomber Head Coach Jim Mullins convinced that the South Hill Squad would win.
"The thing that I was very pleased with was how we hung in there when the lead got to 15," Mullins said. "I felt we were at a critical stage where it could have ballooned; we regained our composure, fought back and made a game of it."
Junior forward Frank Mitchell scored 20 points in the second half to lead all scorers with 26 points for the Bombers. He and senior guard Sean Rossi worked well together in the second half, and the two connected on a Mitchell layup that cut Laker lead to two with 1:42 left in the game. Mitchell said the team ran the floor well in the second half.
"We got out to doing that in the second half more than the first, and I got a couple of easy lay-ins," Mitchell said. "The shots weren't falling for me and the team in the first half, but we picked up in the second half."
The Lakers (6–1, 3–1 SUNYAC) were able to close the game out with senior forward Hayden Ward hitting a turnaround jumper with 19 seconds left to extend the Laker lead to four. Ward led Oswego with 22 points, shooting three of five from behind the arc. Mitchell said the Bombers knew what to expect from last week's ECAC Player of the Week.
"We knew coming in that he was a real good player," Mitchell said. "We tried to limit his touches as much as possible, and when he got it, we double teamed him. He made a tough shot in the end, but I thought we played him pretty well throughout the game."
The Bombers were without senior guard Eli Maravich, who suffered a wrist injury in their 65-52 win against Elmira last Tuesday. He is questionable for their next game Tuesday at St. Lawrence. If he is unavailable, senior guard Jordan Healey will likely be called upon to start for the second game in a row. Healey said the team was a bounce or two away from beating one of the better teams in the region.
"We were down by 18 in the second half, and we came back and had it at two with a minute left," Healey said. "We learned to not drop our head and give up today."