Last season, he was donning scarlet, gray and black on the court and playing against top Division I basketball teams like Syracuse University and Villanova University in the Big East Conference. But this season, sophomore forward Frank Mitchell is wearing blue and gold.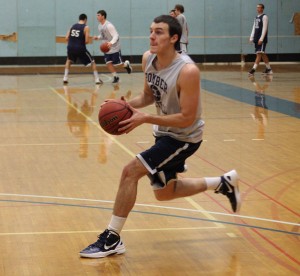 A Hillsborough, N.J. native, Mitchell was an all-conference selection as a junior and senior at Hillsborough High School. He averaged 16.2 points per game as a senior and is placed seventh on the school's all-time career scoring list, scoring 1,116 points in four seasons. He committed to Division I Rutgers University and appeared in seven games as a freshman forward for the Scarlet Knights last season, during which he scored two points and grabbed four rebounds.
Mitchell said though he was only at Rutgers for a year, his tenure was a beneficial experience and one that he enjoyed.
"It was definitely a positive experience just learning a lot from those players, those coaches there, being a different experience to play in different arenas like Madison Square Garden," he said.
But Mitchell said his ultimate thirst for more game experience led him away from Division I and to South Hill.
"It was a great experience for a year, but it's just the playing time and the situation about not getting too many minutes up there was a factor," he said. "I knew coming here I'd have a significant role on a team that was very good in the past and has a chance to be very good every year."
The Bombers have had three consecutive 20-win seasons, and this year three starting players and key role players are returning who said they want to extend that streak. DIII News picked the Blue and Gold to win the Empire 8 Conference.
Center Phil Barera '11, who was named second-team All American and Empire 8 Conference Player of the Year during his last season, has graduated, leaving Mitchell a spot in the starting lineup.
Junior forward Andrei Oztemel said Mitchell will easily fit into the Bombers' lineup.
"[Barera's] going to be a lot to replace, but Frank stepped in immediately," Oztemel said. "He's got such quick feet for a big man. He's an actual nightmare for pretty much any big man in our league that we go up against."
Junior guard Sean Rossi, who is currently on pace to become the all-time Division III leader in assists, said Mitchell's presence on the paint pays dividends for the entire team.
"He knows exactly where to go after setting a pick," Rossi said. "He knows where somebody's going to be open, and he can get them the ball."
Rossi said Mitchell has exhibited positive attributes on and off the court for the Bombers thus far.
"When we just started playing in the beginning of the year, he didn't try to do too much," he said. "He just played within his own ability, and he was doing great for us."