For sophomore Jackie Young, her golfing career began in a pool. When Young was a junior in high school, her mother, Margaret de Koning, pulled her out of the Edison Club pool in Rexford, N.Y., where she competed on the club team, to meet someone. Margaret instructed Young introduce herself to Duramed Futures Tour member Briana Vega who was hitting balls at 11th tee.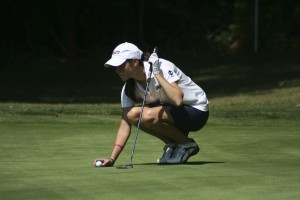 Though Young said she was intimidated at first, meeting Vega gave her the confidence to pursue a career in golf.
"It was encouraging for me because my parents had been trying to get me to play," Young said. "I was just going to row in college, but after I met her I decided it wasn't too late."
With the guidance of her stepfather Kendrik de Koning, a scratch golfer himself, Young began practicing every day. She started by hitting buckets of balls at the driving range and playing nine holes, while also working on her putting.
While at Burnt Hills-Ballston Lake High School in Burnt Hills, N.Y., Young competed as the only girl on the boys' golf team, Young said the experience, though frustrating at times because she couldn't drive as far or put up scores close to her teammates, helped her develop the power she has in her swing today. Several times she said she considered quitting, but with the support of her stepfather and high school golf coach David Wellington, she kept on playing.
"It was disappointing because I knew I could do better," Young said. "But I didn't really know how. People just kept saying, 'Keep working, and it'll get better,' and that really is what happened."
As Young prepared for college, taking part in several junior Professional Golfing Association events as well as playing in the New York State Junior Championship, she caught the eye of Dan Wood, head coach of the women's golf team at Ithaca College. Wood said her talent was evident, despite only having a few summers of prior competitive experience.
"Even then she had a long flowing swing," Wood said. "When you see somebody who's 5 foot 8 inches or 5 foot 9 inches, with long arms and a long flowing swing, you immediately know there's potential there."
As Young continued to improve through the summer before her freshman year, she and Wood talked about playing for the college's first women's golf team. When Young joined the team she became the first official golf
recruit in the college's history. Young said it was the "perfect fit."
In just her freshman year, Young showcased just how fast a learner she is by elevating her play even higher.
Last year at the Empire 8 Championship, Young posted a fourth-round score of 86, making her the lowest scorer among all freshmen in the conference. This earned Young the league's Empire 8 Rookie of the Year award.
Though she appears calm on the surface, her demeanor is an area of her game that she said she's continued to work on since she started playing. Because she has let bad shots get to her mentally, Young said she's put in a lot of time working on refocusing before every shot.
"I try to keep more of a level head," Young said. "I'm still working on … trying to recover and get my head back in the game and focus rather than losing my temper and adding six shots."
Her attitude on the course fluctuates, punctuated by smiles and "rebounding the club" — a term Wood used to describe her swinging her club into the ground in frustration. Kendrik said Young is a player who can at times be visibly upset, but is willing to commit fully to become a better player.
"She is anything but quiet and reserved," Kendrik said, "She is an extremely hard worker, though, and focused on the golf course."
While her play sometimes changes the way she handles herself on the course, Wood said Young's character is vital in the team's chemistry as a whole.
"She's got a great sense of humor and a terrific personality," he said. "I don't know if I've ever heard a bad word said about her by anybody on the Ithaca College campus. She is a delightful person. There isn't anybody on the team that isn't happy to be around her both on the golf course and off."
It's evident that Young's work, putting in hours after finishing work at the Ballston Spa National Bank during the summer, coupled with her practice schedule at the Country Club of Ithaca, is starting to pay dividends this season.
In qualifying for the first match of the season Saturday against William Smith College at the Country Club of Ithaca, Young shot a two-round total of 171, earning the top spot on the team.
While she had goals last year of giving her best effort every time out, this year, both Wood and Young said her goals have changed.
"I'd like her to become a little more consistent," Wood said. "Even she would say she had a few too many highs and lows last season. Some of her best rounds were when you might not have expected it and vice versa."
As Young prepares for her sophomore season, she's motivated by a goal she set in high school and the idea of achieving more than a lower score card. At the time, one of Young's teachers had what Young called a "dream box," where each student was asked to write down a goal of theirs, put the card in the box and come back to get it if they ever accomplished the goal.
"I wrote down, 'Going into my junior year of college, I want to try out for the Future's Tour,'" Young said. "My goal on the card was to at least make it past the first round. … I want to go back and get that card."