With an overall record of 12–2 and six wrestlers ranked at the top  of their individual weight classes, the wrestling team's athletes continue to support one another and tweak their technique on their way to another run at a national title.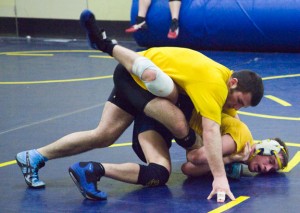 Though the Bombers have not placed lower than third in the Eastern Collegiate Wrestling Conference championships since 1999, their last NCAA championship was in 1994. This year's team has dominated opponents, outscoring them 111–15 in the last three matches.
Senior Blaine Woszczak said everyone on the team acts as a support system for one another during both team and individual matches.
"If one of us wins a match it's because a lot of us are behind each other," he said.
Woszczak is one win shy of breaking the all-time record for  wins set by Bob Panariello '85, but he said he was looking at the match as another stepping stone toward the ultimate goal of winning a national title.
"I'm not looking at it for the record, I'm looking at it as a ranked opponent coming up, and I'm just preparing for that and going day by day," he said.
Woszczak is one of four wrestlers on the team who are in the top five in Division III in their weight class. The others are juniors Seth Ecker and Jeremy Stierly and sophomore Derek Brenon in the 133-, 141- and 157-pound weight classes, respectively.
Graduate assistant coach Dave Sbriscia said the team's upperclassmen have motivated the younger players and set a positive example of stepping up and performing to their full potential.
"Watching [the upperclassmen] helps the younger guys build on their performances and provides them with big shoes to fill," he said.
Freshman Shane Bartrum said he's worked with Sbriscia and junior heavyweight Matt Mahon on technique and filling out his body for the heavyweight class.
"It's great to be able to see their strengths and weaknesses and get feedback on what they do right and wrong during matches," he said. "When I work out with them I feel like I'm learning a lot about the sport."
Film sessions have been incorporated more into the Bombers' practices since the wrestling room got its own television. Head Coach Marty Nichols said he was trying to hold more film sessions as a team during winter break rather than meeting with people in the Hill Center individually.
In dissecting match film, he hopes the players can improve on their past mistakes and gain a better understanding of their opponents.
The Blue and Gold traveled to Cedar Rapids, Iowa, for the Cliff Kean National Duals for their only action over winter break. It was the first time in four seasons the team has traveled outside the Northeast region for dual-meet competition. The Bombers  showed they could compete with upper-level teams, holding a lead against second-ranked Wartburg College.
Mahon said it gave the Blue and Gold a chance to compete against rougher opponents they would face in the NCAA Championships.
"They were mean guys, a lot rougher than we are out here in the East, but we had a lot more technique," he said.
Mahon, who leads Ithaca with 15 pins, said the Bombers used the time off to keep one another in shape.
"When we get into the grind we're in right now, we don't have time to work hard because you can't beat each other up three days before a meet," he said. "We'd go home and be sore and be happy about it because we had nothing else to do."
Following the Kean Duals, the Bombers did not compete again until the New York State Championships on Jan. 23 in Binghamton, N.Y.
Only two other schools sent more semifinalists than Ithaca College, and both of them were in Division I. The
Bombers finished seventh out of a field of 19 teams.
Nichols is confident he has the strongest players in each weight class  since the Bombers' last NCAA title 17 years ago.
"We probably have the best team we've had here since the team that won in 1994, and they can win it all again this year," he said.