There's a reason why parents' weekend and the Cortaca Jug don't fall on the same date. For most Ithaca College and SUNY-Cortland students, having your parents come up for arguably the biggest party weekend of the year would be a letdown. But the Musarra family has no boundaries.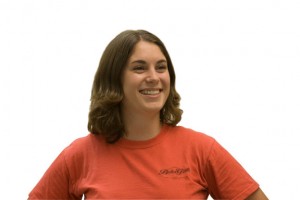 This year, my mother, a 1984 SUNY-Cortland alumna, will be making the trip to Cortland from New Jersey for the game. My mother is not exactly the world's biggest football fan, and she's quite possibly even farther from the world's biggest drinker, so it may seem odd that she's willing to travel about 400 miles round-trip for an event she seemingly wouldn't enjoy.
She made the trip for Cortaca a few years ago and while walking past the typical slew of drunk girls she said, "Honey, it's only noon — you've got a long way to go."
But the woman knows how to party, and I'm fairly certain she loves Cortland more than she loves her children. She's really not even coming to see me — I'm more of an afterthought. When making arrangements for myself to get to the game, I asked if she wanted to play the role of bus driver, but she wasn't too thrilled.
And don't expect to see one strip of blue and red in the stands. Mom's informed me that despite already dropping the $8 on her ticket, she might not even go to the game in favor of hanging out at her old favorite bar, The Dark Horse.
Every time my mother sees someone in a grocery store wearing SUNY-Cortland attire she stops them to have a full-blown conversation, but somehow when I was making my college decision she forgot to mention that Ithaca and Cortland have a fierce rivalry that dates back several decades.
Fortunately Ithaca's sitting in the lead with twice as many Cortaca wins as the Red Dragons, and with three consecutive wins for the Bombers, it's made going home for Thanksgiving breaks quite a treat. But with Cortland ranked No. 22 in d3football.com's top 25 poll and the Blue and Gold's playoff hopes over, I may be looking at a long weekend of trash talk.
But if the South Hill squad is able to pull out the victory, the class of 2011 will be the first class since 1987 to see their home team win every year they attended the college. My mother only saw the Red Dragons win once while she attended the school.
So for us, Cortaca is more than a holiday dedicated to playing mimosa pong at 7 a.m. and yelling second-rate chants across the bleachers — it's all about family rivalry. There may not be a Geller Cup, but the taste of victory is sweet enough to last a whole year — if not more.
Casey Musarra  is a senior televison-radio major. Contact her at cmusarr1@ithaca.edu