Senior cross country runner Alissa Kersey's accolades range from MVP of her high school team to a two-time all-conference team selection. Kersey recently added yet another title to her résumé when she completed the Boston Marathon on April 18.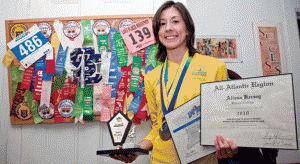 The Hopkinton to Boston footrace is the only marathon in the world, besides the Olympics and World Championships, where a race entry number is necessary to qualify. The cutoff for women ages 18 to 34 is 3:40.59. Kersey made this time by only 44 seconds with her finish of 3:40.15 in the Buffalo City Marathon in Spring 2010.
Kersey said running became embedded in her lifestyle when she realized how much of a thrill she got from physical activity in high school.
"I just focused on enjoying it, and not letting it stress me out," Kersey said. "It became kind of second nature."
A native of Sodus, N.Y., Kersey began running in the sixth grade at Sandy Creek Central High School. When she ran the mile in gym class, she discovered how athletic she was.
"I realized I could beat all the boys, and that was kind of fun," she said.
Competing for Sandy Creek Central High, Kersey became close to her coach, Jim Pelton, a runner who has completed 10 marathons, including one Boston Marathon. During her junior year, Kersey was inspired by Pelton and math teacher Kevin Halsey, both of whom were training for that year's Lake Placid Marathon. After seeing them complete the marathon, Kersey proposed the idea of running one before graduating high school.
Initially, Pelton was worried about Kersey attempting the long, arduous distance.
"When she asked about a marathon, my first reaction was that I was afraid it would hurt her as a runner," he said. "I wasn't sure if her body, as a senior in high school, was ready for such a race distance."
Kersey assured him that she could handle the distance though. With the support of Pelton and Halsey, she trained to compete in the Lake Placid Marathon. A week before she graduated, Kersey finished the 26.2-mile race in 3:46.39, exceeding her expectations and finishing first in her age group.
Kersey focused on running with the cross country team at Ithaca College during her freshman and sophomore years but decided the winter and spring seasons provided her with too much of a gap between competition. She then turned her sights toward running in more marathons.
Kersey said she is motivated to run in marathons because she can inspire people by doing something she enjoys. She said she wants to help people discover their passion for running the way Pelton and Halsey did for her.
She defines her success using the Ralph Waldo Emerson poem titled "Success" as words to live by. In the poem, Emerson says "to know even one life has breathed easier because you have lived" is to have succeeded.
"I saw it one day and it just spoke to me," she said. "Success is something that's always been so personal to me."
In Spring 2010, Kersey decided to run in the Buffalo City Marathon to try to meet the Boston Marathon qualifying standards.
"Boston was always kind of in the back of my head as something I wanted to do," she said. "I figured since I was six minutes off of the [Boston Marathon] qualifying time the first time I did it, and I didn't even train that much or try that hard, I figured why not."
Kersey said her diet in preparation for the Boston Marathon consisted of a lot of energy-rich foods such as bread and pasta along with a lot of water and Gatorade for hydration.
Kersey trained for the Boston marathon completely by herself, combining well-balanced meals with long runs and upper body workouts.
She said it was tough to balance her academics and social life with preparation for the marathon, as she was in the process of switching her major from physical therapy to health sciences.
"I had a lot going on, changing majors and stuff like that," she said. "Training just wasn't my top priority. I actually almost didn't go through with Boston because I was doubting my training."
Inspired by the Eleanor Roosevelt quote "No one can make you feel inferior without your consent," Kersey kept her self-esteem up and decided to go through with the race.
By the time the day of the race came, Kersey was more nervous than ever. She said she had some doubts before the gun fired because of the number of runners participating in the marathon.
"It was really intimidating," she said. "I was really nervous. I had no idea what to do. There's so many other runners, you just follow them around."
With temperatures dropping into the low 40s and a blustery tailwind causing an even cooler windchill, Kersey found herself caught by a chilly surprise at the start. But she went through the first 10 kilometers in 48 minutes, feeling great and well ahead of her planned pace.
Kersey said she channeled her nervous energy in the beginning by focusing on proper breathing and her body's limitations so she could have the stamina to finish the Boston marathon.
"I just wanted to get in the groove, a pace that I was comfortable at," she said. "That's when I realized I was comfortable but running at a really fast pace."
Hitting the halfway mark in 1:39.03, Kersey was not only driven by her time but also the crowd and checkpoints along the course. She said the energy of the spectators pushed her to keep running.
"The crowd was so positive and uplifting, it just carried me along," she said. "I pretty much smiled the whole race. Everyone was so happy and loud."
Kersey finished the marathon in 3:16.56, more than 23 minutes ahead of her previous best. Her time was the 455th fastest among more than 10,000 women finishers and good enough to qualify her for next year's marathon.
Knowing how hard the Boston course was, Pelton was just as excited for Kersey.
"I couldn't believe it when I saw her time," Pelton said. "I was like a proud parent. I called everyone I could think of to tell them how she did."
Kersey's Ithaca cross country teammates also tracked her checkpoint times closely online. Following her progress, senior Liz Schloss said everybody was excited, proud and inspired.
"It's a great accomplishment and makes me want to work up to do the marathon," Schloss said.
Besides some blisters on her right foot and severe sunburn, Kersey said she came away from the marathon relatively unscathed.
Kersey said she isn't sure if she will run the Boston Marathon next year, but definitely thinks there are more marathons in her future.
"As of right now, it sounds very exciting, and I still have Boston fever," she said. "If I'm healthy, then I'm game for it".