As a competitive sport club at the college, the men's club rugby team overcame lack of field space and minimal funding to earn the right to compete and finish among the top four in Division III last season.
Like many of the 30 sport clubs on the college's campus, the men's rugby team has to fight to earn the right to compete. It was forced to practice on a hilly field at Danby Elementary School rather than use the fields on campus.
1,115 Ithaca College students participated in a sport club during the 2010-11 academic year, yet these clubs received less than 1.5 percent of the portion of the school's
budget set aside for collegiate athletics.
Volunteer men's club rugby Head Coach Annemarie Farrell said the countless benefits a sport club can provide to its officers and members are limited when the clubs become
economically exclusive.
"The lack of funding is causing sports like hockey to charge over $1,000 to participate," she said. "I worry that our mission of what club sports is falls apart when the only people who can participate are the ones who can pay."
The fees charged to participate in sport clubs are put toward equipment and use of facilities that are off campus.
The Office of Intercollegiate Athletics and Recreational Sports houses club and varsity sports under the same roof, as opposed to other local institutions such as Cornell University and SUNY- Cortland, where the two are separate.
The 2011-12 budget at the college designated $4,097,506 to athletics, which includes varsity and recreational sports. Approximately $55,000 of that money was designated to club sports for the 2011-12 fiscal year, an amount that has stayed the same for the past 16 years.
The new Athletics and Events Center provides some space for dozens of sport clubs who require the use of field space to practice. Higgins Stadium has hosted games for club sports, such as men's and women's lacrosse and soccer. The 25 varsity sports teams on campus, however, always take priority over club sports for use of the field.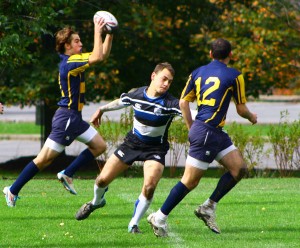 But despite being in the minority, officers of sport clubs find ways to make ends meet.
Senior Ally Oleynik, president of the club field hockey team, said she enjoys the responsibilities of being a sport club officer despite the workload.
"I didn't realize how much was involved," she said. "I feel like I'm running a business instead of a team because when I actually get to practice, I have to be a captain and encourage them to play hard."
Sport clubs collectively spent $250,000 during the 2010-11 school year, a majority of which was earned through letter campaigns to friends and family and other fundraisers.
Sophomore Samantha Robinson, president of the equestrian team, said the team plans to do their annual car wash at the end of April at Rogan's Corner on Danby Road. She said club sports create bonds that go beyond athletics.
"Being a part of a sport club allows you to meet people and friends that you may have never met," Robinson said. "Our team is like a family; it provides a support system and allows you to be active in a sport you love."
Assistant recreational sports director Brad Buchanan said officers of sport clubs acquire valuable job skills by leading campaigns to raise money for their organizations.
"Those are all transferable job skills to whatever you do in life," he said. "It's not something specific to a field, but you need those skills in whatever you do."
Senior Carter Raines, president for the men's club volleyball team, said the students overcoming economic obstacles shows their passion for sports.
"We may not get the recognition in the newspaper or on the intercollegiate website, but we still like playing our sport," he said. "It just goes to show the hard work students put in for the things they like to do."
Buchanan said sport clubs are not challenging the lack of sufficient funding.
"The finances are going to continue to be an issue, but I think students will continue to rise to the occasion because they want to do it," he said.