Despite representing 10 different sports, two national championship teams and sharing a combined nine All-American awards, the Ithaca College Athletic Hall of Fame Class of 2011 accepted its honor with humility.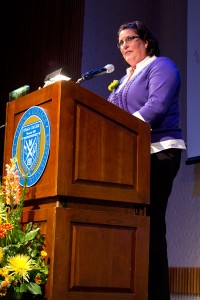 The eight inductees spanned 30 years of Bomber athletics and received plaques to commemorate their careers Friday in a ceremony held in Emerson Suites.
Athletic Director Ken Kutler said this year's hall of fame class was younger than groups in past years.
The inductees included three members from the college's Class of 2001 — Ron Amato Jr., Erin Demarco and Laura Remia. This was the first year of eligibility for each of these athletes, as there is a 10-year grace period before athletes and coaches may be nominated.
Baseball players David "Dudley" Dasch '86 and Brian DeLola '90, long distance runner Anne Marie DelSignore '94, volleyball player Rhonda Faunce '85, and triathlete Thomas Schoen '71 rounded out the rest of the inductees.
Schoen, who has coached football for 38 years at Whitesboro High School in Whitesboro, N.Y., said the ceremony was emotional and heartfelt.
"Tonight was very easy," Schoen said. "I was speaking from the heart. I didn't have to coach."
Schoen was captain of the football, ice hockey and men's lacrosse teams on South Hill. He lettered in all four sports and won the Ben Light Award, which recognized him as the best male athlete in his class.
Schoen said participating in a sport during each season and playing under former football Head Coach Jim Butterfield inspired him to mentor high school players.
"When I first started coaching I didn't just want to coach, I wanted to teach," he said.
When current women's track and field Head Coach and former high school adversary Jennifer Potter introduced DelSignore, she recalled DelSignore getting drug tested after winning her third and final All-American award. DelSignore was so dehydrated following the competition that she could not provide a urine sample, Potter said.
But DelSignore had returned to Ithaca for more than her induction, as she had come from her hometown in Alabama to marry her partner. The wedding had taken place earlier in the day.
Softball Head Coach Deb Pallozzi introduced Remia, who set a Division III record with 49 career home runs.
Faunce, who was the first Bomber to earn All-American honors as a volleyball player, set school records in kills and aces with 1,536 and 262 respectively. She is currently head coach of the volleyball and softball teams at Empire 8 Conference rival Elmira College.
Faunce said though she has been coaching the Soaring Eagles' teams for 27 years, she still misses her alma mater.
"Whenever we play Ithaca, it's always a sad bus ride home whether we win or lose," she said.
DeMarco started on the defense all four years of her career on the women's soccer team. Her father, Allen DeMarco said she was able to step in and contribute right away.
"The first game the defender in front of her was injured," he said. "She got in, and has never missed a game since. We've been there for every game."
DeMarco had 31 points in her career and was one of two of the program's players three-time All-Americans.
Amato was a two-sport star in football and baseball. He pointed to his great coaches and work ethic as pivotal catalysts for his accomplishments, which included a career batting average of .384.
Baseball Head Coach George Valesente '66 had the unique privilege to introduce both Dasch and DeLola. Valesente highlighted how easy of a transition it was as a coach, going from one future hall of famer to the next. DeLola had started playing on the team the season after Dasch graduated.
Dasch lead two Bomber teams to third and second place finishes at the NCAA Championships. DeLola finished where Dasch left off, leading the Blue and Gold to a national championship in 1988 as a starting pitcher.
Dasch played two seasons in the Minnesota Twins organization following his Bomber career, while DeLola was the only pitcher in the program's history to win at least eight games in three seasons.
Kutler said all the inductees' plaques will line the Bred Benner Hallway of the new Athletics and Events Center. In past years the inductees kept them and were recognized only on a list in the Hill Center. The new designated area will be known as the Hall of Champions and will also include championship banners.