Junior Rachael Palladino's passion for soccer has been challenged throughout her two and a half seasons as a forward on the women's soccer team. But she has responded to each obstacle with diligence and humility to become one of the program's most prolific players.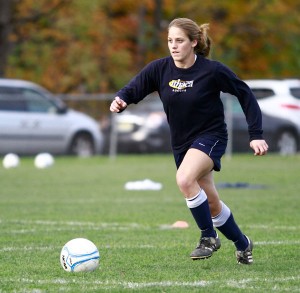 Though she played varsity basketball and club soccer at Lansing High School, Palladino said she thought she could be a better soccer player in Division III.
"I really miss playing basketball, but I always saw myself as a soccer player," she said. "I was always more confident with a ball at my feet rather than in my hands."
LaMarr Peters, Palladino's trainer and head coach of the varsity women's soccer team at Lansing High School, said Palladino exudes a more laid back attitude off the field.
"Her quiet disposition — mellow is the word that comes to mind — it is the exact opposite of the person that causes pure havoc for opponents on the field," he said. "Her peaceful nature off the field is what seems to balance her aggressive play on the field."
Palladino said Peters and Gretchen Zigante, Lansing club soccer team head coach, helped her realize her potential as an athlete.
"Gretchen was the one who made me actually start thinking about college soccer," she said. "Peters taught me how far I can actually push myself mentally and physically, and his passion for the game furthered mine."
Though she is already second all-time in the Bomber record books for goals and points with 44 and 107, respectively, Palladino attributed her success in both areas to her teammates.
Palladino played alongside her sister, Megan, in her first two seasons as a Bomber. Though Megan started half as many games as Palladino and is not playing this season because of an ACL tear, Palladino said, she still looks to Megan for inspiration.
Megan said despite Palladino's immersion in the game, she finds a balance between academics and family life.
"You will never doubt the effort she will put into a game or practice, and that effort is what makes her so successful," she said. "But her effort is still there in her school work and her family is the most important part of her life."
When Palladino is not playing soccer, she likes to go on hikes with her family.
She's currently on pace to be the best soccer player to wear blue and gold. She has already earned prestigious distinctions such as Eastern College Athletic Conference Upstate New York Rookie of the Year as well as a first-team NSCAA East Region all-star. But she said these honors do not dictate the success of her career.
"The only thought I want to leave Ithaca with is that I played every game with heart and purpose, and left everything I had on the field for my coaches and my teammates," she said.
Article has been updated to reflect the following changes: Megan Palladino is not playing this season because of an ACL tear.