Though most college fraternities and teams aim to create familial bonds between members, this year's wrestling team already has three sets of brothers to help build unity.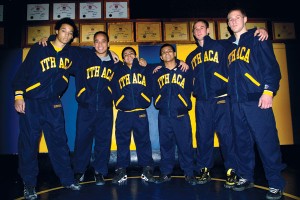 The six wrestlers — junior Keith Dickey and freshman Grant Dickey, junior Rick  Gomez and freshman Alex Gomez, and graduate student Nick Sanko and sophomore Brett Sanko — are part of a 29-man roster that features the most blood-related teammates in the program's 70-year history, said Head Coach Marty Nichols. They compete in weight classes that range from 133 to 184 pounds.
Nichols said he has made incorporating the younger brothers into the team culture a priority this season because the past success of the elder brothers could build on the squad's already strong foundation.
"When we know the older brother and we like him, we tend to go after the younger brother as well," Nichols said.
All the brothers strive to add depth and versatility to this season's experienced group of Bombers.
Keith, who transferred to South Hill from the University of Pittsburgh midway through the 2009-10 regular season, wrestles in the 184-pound weight class. He
recorded 15 wins with the Blue and Gold last season and finished third in his weight class at the Empire Collegiate Wrestling Conference Championships. Grant came into yesterday's meet against Rochester Institute of Technology with a record of 6–9 as a Bomber.
Brothers Rob and Thad Raspey coached both Keith and Grant when they competed for Cedar Cliff High School.
Keith said having brothers as high school coaches made him and Grant closer, since Grant is more introverted.
"Our coaches knew we had a similar bond as they had on the mat, so they would really emphasize capitalizing on that," Keith said. "They knew a little encouragement could go a long way."
Grant, who lettered four times in high school, said he and Keith would wrestle against each other in practice to get familiar with each other's style. Grant said Keith motivated him to work out and practice on days when he didn't want to.
"He taught me the importance of consistency — just going out there and training yourself every day so you can make weight and make progress between meets," Grant said.
Grant and Keith attend the School of Business and also have a younger sister, Vera, who is a freshman studying sociology at the college's School of Health Sciences and Human Performance.
Rick and Alex Gomez have competed both with and against each other in their wrestling careers. They faced off against each other in the 133-pound weight class in Saturday's New Standard Corporation Invitational in York, Pa. Alex came out on top, taking third place by medical forfeit, but it wasn't the first time he had surpassed Rick.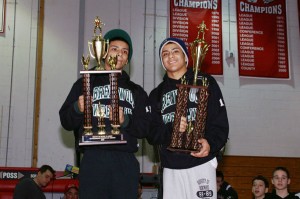 In 2009, Rick set the all-time record for wins at Brentwood High School on Long Island, only to be surpassed by Alex, who ended up with more than 200 wins at the end of his high school career.
Alex said he was reluctant to take advice from his brother when he began wrestling on his high school's varsity squad when he was in seventh grade.
"In high school I was ignorant," Alex said. "Rick would teach me a move and I would be so tired after practice that I wouldn't listen to him."
Rick said he felt proud of his brother for surpassing his record for victories at Brentwood.
"All the coaches were joking that my little brother was going to break the record," Rick said. "But if someone was going to break the record, then I wanted it to be him."
Nick is the most decorated wrestler out of the elder brothers on the team, as he has compiled a career record of 40–20.
Brett said Nick helped him acclimate to Ithaca College after he transferred from Ursinius College and missed all of last season with a dislocated shoulder.
"Ithaca didn't feel like the right fit at the right time, but now it seems like it's worked out for the best." Brett said. "I like how we can eat and study together when we're not wrestling. It makes it easier to support each other and know what we're both going through."
Nick said having his brother around allows him to serve as a mentor for his younger sibling and the rest of the team. He said watching Brett helps him develop an ability to inspire the other wrestlers and give them advice.
"I enjoy coaching him in matches or in practice," Nick said. "We've worked together for so many years, so it's nice to continue wrestling together in college and see him grow day by day."
Nichols said he jokes with the sets of siblings in practice, calling them by their last names to see which one of them responds.
"I get to yell out 'Sanko that's not good enough,' and neither of them will know which one I'm talking to," Nichols said.
Though there's always a bit of sibling rivalry in practice when the brothers partner up with each other to work on technique, Nichols said the three sets of brothers are generally supportive of each other.
Rick said the sets of brothers on the team leads to an increase in diligence, which stems from being afraid to fail or being embarrassed.
"It's a different work ethic since I don't want my little brother to beat me, so I work harder," Rick said. "I'll hear coach yell out 'Gomez,' and I won't know which one he's talking to, so I just work harder."