The stinging rain and rough, choppy waters of Onota Lake in Pittsfield, Mass., signified spring had yet to gain permanent footing in New England.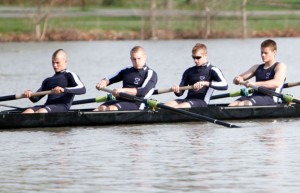 Yet the wind, rain and waves were no match for the eight sets of oars in the men's crew novice 8 boat, and neither was the competition, as it won its fourth consecutive race of the season at Williams College on April 23.
In fact, few opponents have been able to slow the novice 8's run as the rookies have a record of 13–2 this season. Freshman Paul Casey said the best part is that these rowers are still learning to compete in the sport.
"I didn't really have any expectations for this season other than learning how to row," Casey said. "But I've been very happy with what we have accomplished. As novices, there are always things that we can still improve on."
The novice 8 boat consists of all freshmen, with only three members who had prior experience in crew or rowing before college.
Several members didn't even join the Blue and Gold until the start of the spring semester after playing other sports.
However, Casey said the boat's stellar work ethic is the biggest reason the squad has been able to come together so quickly.
"Technique-wise, we may not be the smoothest in the water," Casey said. "But we definitely work the hardest, and that's a big factor in why we've had such a great season."
The novices also attribute some of their success to their interactions with varsity rowers.
Freshman Andrew Voorhees said the best advice he's received from the upperclassmen is a boat needs contributions from everyone to succeed.
"They've told me mainly just not to focus on individual effort but the team effort," Voorhees said. "You can personally row well, but if one or two other people do not perform as well, then the boat as a whole won't do very well. Crew is really a team sport instead of an individual sport."
The Bombers are also receiving great insight about team unity from Novice Coach Manny Delgado.
"I tell them to stay together," Delgado said. "In a sense that both on and off the water, it's so important to stay together as a team. When we're rowing out on the water, the best boats are the ones that do everything together."
Delgado said the novice 8 boat's success is linked to the squad's refusal to be content.
"What I really like about this crew is that they've developed an awareness of their strengths and weaknesses," he said. "They know when they have a good practice and when they have a bad practice.  They're really open to feedback for learning to get better."
The Blue and Gold's rookies will be facing tougher tests in the coming weeks. The South Hill squad will compete in its final race at the Eastern College Athletic Conference Championships on Sunday and will be gunning to compete at the NCAA Championships on May 28.
During the past few weeks, the novice 8 rowers have been focusing on perfecting synchronization with every stroke. Since there will two to three more boats added to each race at ECACs, Casey said it's vital he and his fellow rowers keep their blinders on.
"The biggest that thing we have to work on right now is staying focused in our boat and keeping our heads in our own race," Casey said. "And not worry about where the other boats are in the water."
Delgado said the team's preparation has set it up to have a big finish at the upcoming championships.
"They believe they have a shot, too, which is important," he said. "If we continue the path that we've been on and stay focused on our own boat then I have full faith that they can medal at nationals."