In its drive toward Empire 8 Conference postseason success, the men's lacrosse team has integrated a younger player to add intensity to its face-off rotation.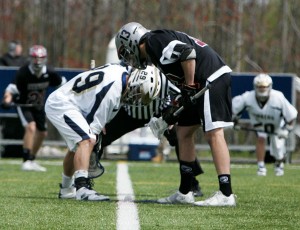 Assistant Coach John Wallace removed senior midfielder Brian DiBetta from the face-off sequence and replaced him with freshman midfielder Matt Greenblatt during the Bombers' game against Union College on March 28. DiBetta won less than 54 percent of his faceoffs last season, and his winning percentage has dropped by 12 percent this season.
DiBetta said he is glad Greenblatt is spending more time in the face-off zone because DiBetta can get more involved in the executing offensive plays.
"It's difficult having to be on the field full time, and it's great having younger guys step up," DiBetta said. "It's more based on matchups and who's doing well, but I expect to still get a few face-offs a game."
DiBetta said the decline in his face-off productivity results from his new position as an offensive midfielder, which requires him to create scoring chances for the team after the battle for possession is complete.
Greenblatt won 84 of the 149 face-offs he took in 10 games this season. He said the reason for his early success is the work he puts in during practices.
"I just work with myself and bring my playlist that has draws for face-offs," he said. "Coach gives me a whistle, and I just go there for an hour and do what I need to do."
Greenblatt won six of the eight face-offs he took during the Bombers' 11-5 win against Nazareth College on April 7 in Higgins Stadium and scored the first goal of his college career. He said he has worked to adapt his form and positioning from the high school level to Division III.
"I've been changing my stance so I can get lower, as opposed to before when my legs were close together and I was up tall," Greenblatt said. "Having my legs farther apart helps because the low guy wins."
Wallace said Greenblatt has improved his technique, but has developed his composure the most.
"He would get real frustrated if things didn't go well for him," Wallace said. "But as the season went on he would understand that every face-off is a different face-off, and if he lost the draw or the official made a bad call then he had to move on to the next face-off so it doesn't get into a snowball effect."
Though Greenblatt has taken 43 percent of the South Hill squad's face-offs this season, Wallace said the team will rely on DiBetta's experience during the postseason. The two will complement each other well, Wallace said,
because DiBetta is able to find the open man after taking the face-off while Greenblatt is able to win the draw to begin the possession.
"It's been a great setup for Greenblatt because Brian goes out there with his style, and his opponent gets used to it," Wallace said. "Then we throw out Matty, and it's a totally different style, which forces them to adjust."