For freshman athletes, the first few games on the field can sometimes be filled with jitters and nervousness. But the rookies on the softball team, overcame these nerves to help the team to a 7–5 start during its spring break trip.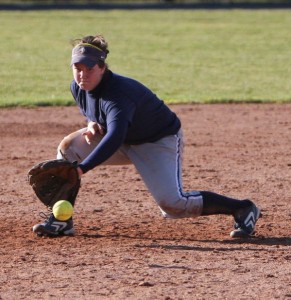 "It definitely feels good," freshman Meghan Kissinger said. "You usually have freshmen not doing much, being on the bench a lot. We did come up big in hitting, but a lot of freshmen played every game and started, and that's pretty key to have flexibility between your upperclassmen and your younger classmen."
Kissinger said whether freshmen were in the field or on the bench, they each played a role. During the team's 12-game trip, only five players made seven starts, two of which were freshmen.
Junior captain Allison Greaney said it is important to have everyone on the team contribute, rather than rely on just a few athletes.
"It kind of takes the pressure off everybody," Greaney said. "We don't see them as freshmen, honestly. During the games it's just everybody as one, so it definitely takes the pressure off a lot of people."
With nine freshmen on the team's roster of 20, the Bombers will continue to look to their freshmen to come through when it counts.
"When they contribute so early instead of having to wait a few games, they immediately know where they fit in the grand scheme of who's going to play and where they're going to be," junior Courtney Noster said. "When it comes down to clutch situations and tie games, they know what to do in those situations earlier, so that can only help us farther down the road."
Freshman Jennifer Biondi led the way for the freshmen offensively. She batted .316, scored three runs and drove in three runs. Combined, the freshman class scored 12 of the team's 26 runs.
The South Hill squad saw vast improvements from its first tournament to its second. Starting out in Panama City, Fla., in the National Fastpitch Coaches Association Leadoff Classic, the Bombers went 2–4 and were shut out in two of their losses. In their second tournament, the National Training Center Spring games, the Blue and Gold scored more than nine runs in three games and went 5–1.
"In the gym, you can do some BP here and there, but it's never the same as like in the game against an opponent," Greaney said. "That first tournament we really started to get our timing back, seeing live pitching, so we were definitely more prepared that second tournament coming around."
While the Blue and Gold use spring break as an indicator of where the freshmen will fit in the lineup, Noster said the fall season and indoor practices helps them see that as well.
Greaney said that seeing the freshmen perform so well early on helps to see how the team as a whole will be able to perform down the road.
"It's funny, we always talk about [nervousness] before the games — it's not just the freshmen," she said. "We go out there so nervous, excited, so it's not just the first-time players. But being able to see they're as comfortable with playing early on as everybody else is, it's definitely exciting for the rest of the season knowing we can only go up from here. Starting out at such a high level, we're excited to see what's to come."