As the regular season winds down for the men's basketball team, some players' careers are coming to a close, while others' are just taking off.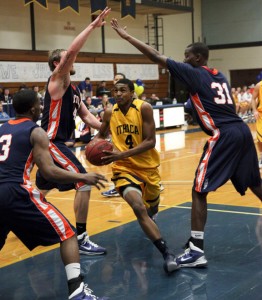 For seniors guard Chris Cruz-Rivas and center Phil Barera, Saturday's 94–89 loss to Utica College marked senior night and the second-to-last regular season game at Ben Light Gymnasium. But alongside Cruz-Rivas and Barera was a skilled supporting cast ready and willing to step it up.
The play of freshman guards Christian Jordan and Miles Grier this season will help ease the Blue and Gold's transition to next year. Jordan, an intense on-the-ball defender, has eased the pressure on defense for the assist leader in Division III, sophomore point guard Sean Rossi, who is averaging nearly two steals per 40 minutes.
Rossi said he could tell early in the season Jordan would have a big impact on the team.
"His energy on the defensive end has really allowed me to conserve my energy," Rossi said. "He allows me to focus more on the offensive end because he winds up guarding the quicker of the two guards."
Jordan, who was named Empire 8 Freshman of the Week for the week of Nov. 22, said his defense-first style earned him playing time faster then he thought it would.
"I wanted to make a difference as much as I could and try to help the team in any way possible," Jordan said. "I knew that if I hustled and brought intensity to practice and to games that I should see playing time."
Jordan said the biggest challenge coming out of high school was adjusting to the strength and speed of the guards at the college level.
"In high school, I was usually the fastest guy on the floor," Jordan said. "But at this level every team has a fast guard, so adjusting to the quickness at this level was probably the most challenging part."
While Jordan's contributions on defense have led to playing time, it has been Grier's work on the opposite side of the ball that has him entrenched in the Bombers' rotation.
Standing at 6 feet 3 inches, with arms belonging to someone who should stand 6 feet 7 inches, Grier has become an integral part of the Bombers' bench serving as their sixth man. He scored 18 points and recorded a game-high 10 free throw attempts in team's 94–89 loss to Utica College on Saturday.
Grier said the ups and downs of the longer college season have taken their toll, but coming to school ready to play has served him well.
"Coming in the coaches told me if I came in shape I would see playing time," Grier said. "They've given me freedom to work and create on offense, and as a freshman, that's a big thing to have."
Cruz-Rivas said players like Jordan and Grier will help keep the program strong for the next several years.
"They've both been fun to work with in practice, and they are as intense as anybody out there," Cruz-Rivas said. "The team is really going to benefit from their energy and experience going forward."
Grier, who grew up in Atlanta, Ga., said he chose Ithaca College because of his high school coach's connection to Head Coach Jim Mullins. He also wanted to attend a four-year school.
Grier said the experience of being part of a winning program only motivates him to keep improving for the future.
"Just being through the ups and downs of the season and having the success we've had makes you want to keep it going," he said "I know my role on the team, and I am just trying to play better every day."