Thirty-four players lined the women's soccer team's side of the field Saturday for the Bombers' game against visiting SUNY–Plattsburgh. With more players than any other team in the Empire 8 conference and any team on their schedule this season, the Blue and Gold aren't only competing against other squads, but against each other.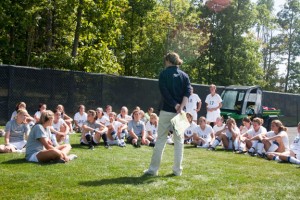 Head Coach Mindy Quigg has put together a roster so large that there aren't even enough jerseys for every player. Teammates now find themselves not only fighting for playing time, but for a spot on the sidelines wearing a number.
The South Hill squad held tryouts during preseason, and with the addition of the freshmen — all of whom were recruited — had more than 40 players show, Quigg said.
"This is one of those years where it worked out that we got more than we usually do," Quigg said. "It's not like I worked harder [recruiting] or I worked less other years. It's just what happens on a year-to-year basis. I didn't necessarily want a bigger team."
Even with the initial cuts before the start of the season, there was no way to bring the roster size down.
"I look at what players can bring to the team and where the natural cutoff is between talent," Quigg said. "I couldn't really come up with a fair way to make cuts. We'll make the most of it, and not making cuts was the fairest thing to do."
The team is using the fact that they have so many players to create more competition during practice, which is an element of play graduate student midfielder/forward Liz Masucci said helps push the team to work harder.
"Having a lot of people on the team is good," Masucci said. "It just means that you have a really large talent pool. The harder we work in practice and the more we push in practice, [it] is just going to result in us doing better in games."
With 23 of the 34 players on the team being underclassmen, Quigg said she doesn't hesitate to play freshmen or sophomores instead of upperclassmen.
"I don't separate between classes," Quigg said. "Everybody is on our team and they're players. I don't care what year they are. We have some first year students who are starting over upperclassmen and that's OK."
In the first four games of the season, the Blue and Gold have started the same 10 field players with senior goalkeepers Alyssa Sotomayor and Jessica Platt starting two games apiece. Of those 10 starting field players, six are either first or second year players, including leading scorers freshman forward Jackie Rodabaugh and sophomore forward Rachael Palladino.
Senior defender Andrea Janda is one player who will be competing for playing time this season. Janda, who is returning from a hip injury and has only played in one game this season, said the best players should play.
"If someone's doing the job right I don't see any problem in someone playing regardless of their age," Janda said. "It's good that we have the competition and it definitely results in the best people being out on the field."
Appearing in only two games this season and just eight in 2009, junior midfielder Katie Simon said she's motivated to compete for playing time.
"Having so many girls creates a really great atmosphere for all of us," Simon said. "Not getting a lot of playing time makes me work harder, and it makes me want a spot."
Sotomayor said not having enough jerseys to go around changes the players' mentalities.
"I feel like maybe in the past you've always had a jersey and you just stay in the role that you're in," she said. "Being able to know that you can work and be back on the field, or you can not work and get your jersey taken away, is something that's constantly reminding you."
Rodabaugh said having a large squad raises the level of play.
"Having so many people brings up the intensity," Rodabaugh said. "That's how it is for everybody, and it's a good thing that there's that many people because it makes the atmosphere so much more competitive."
Quigg said she's had a policy of not naming captains for more than seven years because it helps promote a team atmosphere and communication.
"It's a better way to get people to take ownership and responsibility," Quigg said. "You get more out of people when they have a vested interest and feel that they have a voice."
Platt said not having captains makes it easier for players to voice their thoughts without having to worry about being scrutinized for speaking out of place and also helps people on the team develop.
"It makes us all accountable for being good leaders when you don't have captains," Platt said. "If you give someone the title of captain, it makes other people on the team feel like they might not have as much of a right to say something. It definitely provides a good atmosphere for teamwork."
Not only does the lack of captains provide an environment that encourages athletes to communicate, Sotomayor said it also makes certain players step up to take leadership roles and motivate the younger players.
"It also makes us think about leadership roles because there's going to be people there that might not constantly be in their jerseys," Sotomayor said. "It's up to us as seniors and upperclassmen to kind of say you can't settle into this role and that you have to keep working at it. … It almost forces leadership upon us."
Having such a large team also creates the challenge of keeping every player involved in practice and in games, while still fielding the best lineup. Masucci said the team is adjusting to the number of players on the team.
"We're very fortunate with the large amount of players we have," Masucci said. "In games, not as many subs can go through and not everyone's going to see playing time, but that's where you have to step up and earn your stripes."
The Bombers have made it to the quarterfinals of the NCAA tournament each of the past three seasons. Masucci said the competition in practice will help prepare the team to make another postseason run.
"We're still very early in the season, so we haven't really figured all the kinks out yet," Masucci said. "Once we go further along we're going to find the best 11, and that's who is going to be starting and then we'll go from there."