Awaiting their score as they wait in the "kiss and cry" — the area beside the rink — the skaters of the Cornell University synchronized skating team reflect on all the challenges they faced to get to nationals in Minneapolis.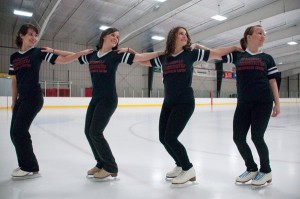 When the score of 49.94 flashes on the screen, the skaters are mixed with disappointment and delight. The score is lower than expected, placing them 11th out of 12 teams, but they can call themselves the No. 1 team in New York because they beat their rival, SUNY-Oswego.
For the 13 members of the team, going to the nationals March 6 was the defining moment of their season. The athletes practice six hours a week from November to March, traveling back and forth to a rink in Lansing, N.Y., because the hockey teams always occupy Lynah Rink. Besides the fact that the team is unrecognized in Ithaca, many people don't know the most interesting part of the Cornell club: It is made up of Cornell, Ithaca College and SUNY-Cortland students. Ithaca senior co-captain Kristen Gerringer said only students looking at schools for figure skating would ever know the program existed.
"That's the biggest problem," Gerringer said. "I didn't even know about it my freshman year, and then from skating in the area I met one of the girls on the team. I tried out the next year and have been doing it ever since. But other than that, no one would know."
Gerringer said she has tried to get the team recognized on Ithaca's Web site, but was not able to. Club Sports Program Coordinator Sarah Hawkins said the college only allows recognized student organizations and sports clubs to advertise, so that would be a violation of the rule.
Gerringer said the team is made up of almost an equal number of athletes from both Ithaca and Cornell and, therefore, should be funded by both schools.
Cornell junior Lauren Gluck said it's hard for the team to get publicity because they are a club sport.
"Not a lot of people know about the team at Cornell," Gluck said. "We're able to advertise it through the figure skating team, but the close-knit community of skaters are basically the only students who know of it."
Since the team is a club and not a varsity sport at Cornell, the students are forced to do a lot of fundraising and campaigning for sponsors. The team only gets enough money to cover its ice time, which came to about $10,500 this year. The athletes had to pay travel expenses to nationals this year, but if both schools were to fund the team, Gluck said it could hire a coach and cover a lot more of the expenses.
"It's frustrating because most club sports don't even use the allotted amount of money they're given," Gluck said. "But we travel, and we represent Cornell at a national level, and yet we're not recognized for it."
The skaters hired a coach before nationals to help them judge the routine from an outside perspective, and all the athletes agreed it helped tremendously. None of the other teams at nationals face the challenge of not having a coach, so the team's goal is merely to not place last in the competition. The skaters make up for not having a coach by practicing a move and then standing around in a circle allowing everyone to give input.
"Myself and the other captain work together on what we'll do in practice, but synchronized skating is so different because if you step out to watch it, it messes everything up because you're missing a person," Gerringer said.
The athletes may all be from different schools, but Ithaca freshman MollyRose Mendell said they have a good team dynamic. She said she loved the opportunity this year to meet people from other schools under different circumstances than just social outings, and especially values that athletes from the different local colleges can come together and perform as a team.
"I really like all the girls on the team," Mendell said. "I wouldn't have branched out of my group of friends here, but I'm glad I did. Not only do you meet girls from other schools, but you also meet upperclassmen who you can go to for advice."
The synchronized skating team at Cornell accepts members from other schools; their figure skating team does not because it's against the United States Figure Skating Association's policy. Gerringer competed on behalf of Ithaca College as an individual on the college figure skating circuit, but for the past few years she has tried to garner attention so Ithaca might get a program of its own.
Mendell said she hopes to carry on Gerringer's torch and create a program at Ithaca for just figure skating since there is more interest now. Gluck said she supports Ithaca getting a program because it will also draw more collegiate skaters to the upstate New York area. However, they do not wish to have a separate synchronized skating program.
"My goal is to start a figure skating team before I graduate," Gerringer said. "This is the first year we have enough freshmen who I know can carry the program on. I am confident that as the interest grows, we'll be able to do something because now some athletes are making the decision to come to Ithaca because of skating."