Junior Michael Reyes could be likened to a modern day gladiator. Reyes stands across from his opponent, hands slowly clenching and unclenching, waiting to make his move. In a flash, Reyes lands a fury of punches, ducks down and shifts his weight as the blue mat under his feet flexes with each step.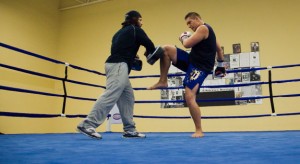 Reyes is just one individual who has embraced the rapidly emerging fighting style of mixed martial arts.
MMA is a hybrid sport — fusing together different aspects of boxing, wrestling and karate. MMA includes the traditional standing-up fistfight of boxing, the grappling, crouched on-the-mat struggle of wrestling and the technical, flowing form of karate. All of this makes MMA one of the fastest growing sports in the past decade, with last month's "UFC Fight for the Troops 2" drawing 2.5 million viewers on SpikeTV.
Reyes, who stumbled upon MMA during a class in September at Ithaca's new Ultimate Athletics facility — which opened five months ago — said he's fallen in love with the sport.
"It's absolutely crazy, the feeling that you get when you're in [the octagon]," Reyes said. "It's such a huge adrenaline rush. You feel like you've been in there for five years when in reality you're only in there for two, three minutes a round."
Reyes, who stands with his arms held close to his body, moves around the mat with short steps, remaining square to his training partner. His eyes widen for a split second as he plants his left foot. His calf muscle tenses, and it looks as if an invisible shock travels from his lower body up through his forearm as he lands a ground-shaking blow to his trainer's outstretched pad. Pulling his arm quickly back into a defensive stance close to his head, Reyes sidesteps and ducks a jab from his opponent.
Reyes, who grew up in Hawaii and has a black belt in Tae Kwon Do, said he was attracted to MMA because of the diversity of it.
"It teaches you to combine multiple fighting styles into one instance, which is a more realistic form of self-defense in real life," Reyes said. "It's more fun."
Freshman Hayden Carhart also participates in an MMA class at Ultimate Athletics and said the sport is more than what it appears to be.
"It isn't all brawling and fighting," Carhart said. "There is a huge technical aspect of it."
This precision of MMA is commonly overlooked — one quick mistake could lead to a swift knockout, as professional fighter Forrest Griffin could attest to. In UFC 101, Griffin threw a combination of lazy punches that opponent and UFC professional Anderson Silva dodged. Silva then countered with a quick jab to the face that sent Griffin to the mat.
Carhart said the physical challenge of MMA motivated him to try it out.
"I have always been very athletic, so I figured it'd be a cool thing to try out," Carhart said. "The workouts seemed very challenging, so it was right up my ally."
Junior Derek Brenon, another participant in Ultimate Athletics' MMA classes, said he has liked MMA so such he might look into fighting an amateur match this summer. Brenon, who is currently on the college's wrestling team and has compiled a 20–1 record this year, said MMA helps with elements beyond the ring.
"You get self-defense, cardio, weight management — it brings all aspects to the table," Brenon said. "It helps so many kids get off of the street and stay out of trouble. I use it geared toward wrestling, but other people use it geared toward staying in shape or using martial arts for discipline."
Reyes said the competitive, grueling nature of one-on-one MMA makes it one of a kind.
"It's a great test of skill and determination of two human beings," Reyes said. "It really tests you to [see] how far you're going to go to win. That's one thing I didn't really get from other sports growing up. It really pushes you to the limit of where you feel like you can't go anymore — and then you go some more."
As Reyes and his adversary leave the ring, it's clear they have pushed themselves to their limits. Reyes, exhausted and immersed in sweat that runs down his forehead and soaks into his shirt, stands in the corner, his chest heaving with each breath.
Reyes also said it's more intellectual than one might think.
"I would say 20 percent physical, 80 percent mental," Reyes said. "It helps me as a person to get in touch with my body, to get in touch with my mind, to get in shape and be healthy. It's been a positive force in my life."
Ultimate Athletics is looking to capitalize on the rising interest in MMA with a building that claims to be the biggest MMA facility in the country, spanning 23,000 square feet. Ryan Ciotoli '02, owner of Ultimate Athletics and a former assistant wrestling coach for the Blue and Gold, said the all-encompassing goals of his new business are drawn from his experiences on South Hill.
"I'd like to give thanks to [Head Coach] Marty Nichols and Ithaca wrestling," Ciotoli said. "The same system we use for our business is the same system I learned at Ithaca College. If there was one thing I really learned it was teamwork, hard work and having a good game plan."
Ciotoli said weight training helps fighters build core strength, which is key in MMA, as in any sport where injuries occur.
"A lot of times you're using your core strength," he said. "And I've noticed a lot of guys tear cartilage in their ribs, which is probably a little more painful than a broken rib, but it's a pretty common injury."
The BombSquad, a professional team that calls Ultimate Athletics its home after moving from Cortland, N.Y., has existed for six years. The squad has 35 professional fighters in the area and has sent fighters to the UFC, Strikeforce and Bellatore. Ciotoli, who serves as manager of the BombSquad, said the team has progressed into a national power by forming a wholesome attitude.
"Our team is really one big family; all 35 guys really chip in," Ciotoli said. "We're a tight-knit group. All our practices are really intense. Everybody's kind of like a mini coach for everybody else. Even when guys don't have fights coming up they're coming in and helping out other guys and helping them get ready for fights."
Looking toward the future, Reyes said a career in MMA is up in the air.
"As of right now it's a hobby, and I'm entertaining any possibility of it becoming a bigger part of my life," Reyes said. "But for now it's not a big goal. But if I do turn into the next big thing, then hell yeah, but I'll take it one step at a time."