The men's soccer season will kick off 2011 with a new face standing between the pipes. But just whose face that will be remains undetermined.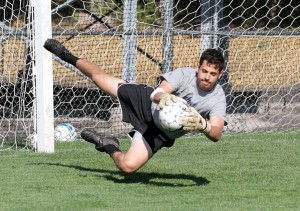 With last year's starter and All-Empire 8 honorable-mention team member Justin Parlapiano graduated, the South Hill squad is still searching for a replacement.
Head Coach Andy Byrne said the competition for the starting spot has been narrowed down to senior Evan Kirshner and sophomore Jack Van Adelsberg. Byrne said each athlete brings a different method to the position.
"Jack's a little bit more of a physical presence in the goal," Byrne said. "Evan is a very quick guy, so their style of goalkeeping is a little bit different."
Kirshner has more collegiate experience than his counterpart. Appearing in nine total games over his three-year career, Kirshner has posted a 3–3–1 record and has  made 32 total saves.
Kirshner said his experience is a crucial ingredient to the blend he brings to the field.
"It's kind of like the quarterback of the field — you're directing everyone where to go," he said. "So I definitely think I bring leadership to that position — and just going through the system year after year."
Though Van Adelsberg might not have the benefit of time on his side, he stands four inches taller than Kirshner.
Kirshner said the competition has not brewed up any negative personal feelings.
"We go up to the field every day and we know we're battling each other," he said. "It's a very heated battle, but there's no hard feelings."
Van Adelsberg said he wanted to see Kirshner do well, but kept the situation in perspective.
"It's tough because you love that guy next to you and want to see them do just as well as you do," Van Adelsberg said. "But obviously at the end of the day you want to play."
A goalie is one of the most important positions on the soccer pitch and finding the right man will be crucial for the Bombers' success.
Kirshner said having the team's trust was the most important factor in earning the starting job.
"That's the difference between a normal goalie who'll let in one of those goals and a fantastic goalie who'll take that ball out of the upper 90 and steal the game for their team," he said.
Kirshner said the position is demanding because of the small window of opportunity to make impact plays.
"During a game we might only save one or two shots, but it's whether we can come up big with those shots," he said.
Byrne said the team is looking for the goalie that will maintain stability in the backfield.
"The one that will have control of the box and be a leader back there is one of the things we are looking for," he said.