If a member of the baseball team has a problem, going to Head Coach George Valesente and his staff is not the only option. The other is senior pitcher and captain Tom Fishback.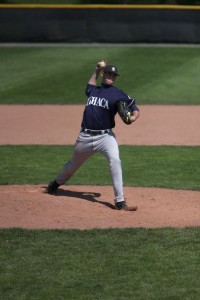 There's a reason Fishback is the lone captain for the Bombers as chosen by the team and coaches: his unique leadership qualities. Fishback is considered a player-coach on the Bombers' roster as many players look to follow his guidance on and off the field.
"Behind the scenes I might come off to a lot of my teammates and friends as a hard-nosed kid [and] a real competitor," Fishback said. "But when it comes down to it, I love all my teammates, and I'm out to have their back on whatever we're doing, and I really like to go out and have a good time with all my friends."
Junior pitcher Andrew Wall, who up until this season rarely saw any playing time at the varsity level, has experienced Fishback's dedication. Wall, a talented pitcher from Newfield, N.Y., was on the junior varsity team in 2008 and last season only pitched in six games as a relief pitcher for the varsity squad, compiling just seven innings of work with a 6.43 ERA.
Because of his lack of success in his first two seasons as a Bomber, Wall developed a lack of confidence in himself and was struggling to find a way to break out. That's when he went to Fishback for help.
"It was almost like he had all of the capabilities in the world and had gone through a ton of hard things in his life," Fishback said. "He was looking for some advice. We sat down and he came over and we were talking about what he needed to do and pretty much what I got out of him was he knows what he needs to do."
Today, Wall is one of the Blue and Gold's starters and in four starts on the mound so far, has already accumulated 22 innings of work — more than threee times what he pitched last year.
"My issue was more mental than it was physical," Wall said. "I had the physical tools to compete at this level, but it's just mentally being able to do it. The ways that he helped me focus and the ways that he helped me have a certain mind-set put me in the position where I am now."
Fishback explained to Wall that while baseball is what they live for as athletes and it's a challenge, it's only a game.
"He's responded very well this season, and he has been pitching great for us," Fishback said.
Valesente said being a good captain is difficult but that Fishback understands his role.
"You basically are the go-between between the administration, the coaches and the players, and there's going to be issues that arise in the middle of things," he said. "A good captain doesn't turn his back on these issues with a team or his teammates and addresses them. Tom has done a good job with that and the learning process of being a captain [is] so totally different than being a player."
Fishback has sported this type of attitude his entire life. As a young child playing youth baseball, Fishback said he was always known as the kid that wanted the ball all of the time — he's always had that competitive drive.
"I've always been that way to take the burden on my shoulders and be a leader," he said. "Where I got that from was always watching sports as a little kid — watching Michael Jordan play, watching Derek Jeter play and learning from people like my dad and my uncles and my brother and even Coach Val when I got to school."
While Fishback is one of the Bombers' top players today, he can relate to the difficulties Wall was experiencing as a freshman and sophomore. While he was on the varsity team his freshman year, he didn't pitch a lot, only appearing in 40.2 innings. But, he worked hard over the offseason prior to sophomore year and doubled his innings to 82.1.
"His velocity increased and everything seemed to get a lot better at that time, so I was very pleased with that process," Valesente said. "And from that point on, he started to make steady progress with a determination that he was going to work at the things that were necessary to get better, and he did do that."
Fishback sports a sensational fastball that has tremendous movement, along with a solid curveball and changeup. His ability to hold runners on first is phenomenal, as he possesses a good pick-off move.
"I really worked to understand the game and understand everything that our coach has to say and offer us as students," Fishback said.
It's no secret that the South Hill squad got off to a rough start this season at 2–9 in its first 11 games. However, the team is starting to pick it up as East Region and conference play comes around. Now, the Bombers are 10-11 overall and 6-2 in the Empire 8.
While Fishback, who is 4–2 with a 2.68 ERA in 37.2 innings, said the recent success of the squad is a culmination of solid team play, his individual work is a big part of it.
"I just try to go out every day and do my part and be a leader and show the guys a good work ethic and how to do things the right way," Fishback said. "So, hopefully, they follow my lead, and we can keep going in the right direction."