Graduate student and forward/midfielder Liz Masucci returns to the field for the women's soccer team this season, providing key leadership for the squad. After transferring from Division I University of New Hampshire in Fall 2007, Masucci, then a track and field athlete, made the transition to playing varsity soccer.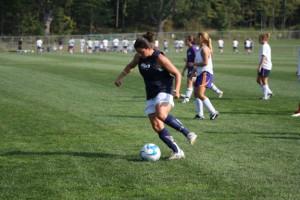 In three seasons with the Blue and Gold, Masucci has played in 53 games, starting 33, and has contributed two goals and seven assists. Masucci was key in the team's postseason runs each of the past three years, helping the squad advance to the NCAA quarterfinals in three consecutive seasons.
Sports Editor Andrew Weiser sat down with Masucci to talk about returning for another season and the team's goals this year.
Andrew Weiser: How does the team dynamic change as a graduate student compared to last year as a senior?
Liz Masucci: I guess my role is a little different. I still have a large leadership role with the senior class, but it's also different because I've been through it once, … trying to lead as a senior. It's more helpful for me to help the seniors. Other than that, it's still going into the same mindset. I'm going to work just as hard and push the team.
AW: What is your role on the team this year?
LM: My role is really to be a leader and set an example on and off the field. We have a very large freshman class, so you really have to be there to help them out and to really set an example of what our team is and the dynamic we try to set on the field.
AW: What was it like transferring to Ithaca College and transitioning to playing soccer in the Fall 2007 from the University of New Hampshire where you were a track and field athlete?
LM: It was difficult; I'm not going to say it was an easy transition. I hadn't played soccer in a year and a half, if not more. I had been coming off of a shoulder surgery, so there were a lot of different factors in there. I have to thank [Head Coach Mindy Quigg] for that one because I wasn't even sure if I was going to make the team. … She gave me a shot, she brought me into preseason and gave me a chance to play. So I really just went into it with the attitude of, "You just have to give it all you have, and if it doesn't work out, you gave it a shot." It worked out for the best and has been the best three years of my life.
AW: What advice do you find yourself giving to the underclassmen?
LM: The most advice [I can give] is to just keep working hard. If we're not working hard, if we're not pushing each other in practice, that means we aren't getting the most out of practice. … So that's really what we try to get out to the freshmen, that's the message that we're trying to send, that that's how we need to play 100 percent, all the time.
AW: As a member of three Bomber teams that have made it to the NCAA quarterfinals and having one more year of eligibility, what's your mindset going forward into this season?
LM: Our goalie, [senior] Jessica Platt said it best: "We have to do something we haven't done yet," to get us to the [NCAA Championships and] Final Four. … The team dynamic this year is great, and you can just feel the energy every day when we get into practice.