The gymnastics team narrowly defeated the SUNY-Cortland Red Dragons 188.075-187.900 in Ben Light Gymnasium on Saturday, helping the Bombers conclude the season with a record of 9—4. The victory was the Bombers' second consecutive win over the Red Dragons, who are ranked first nationally in adjusted scoring average.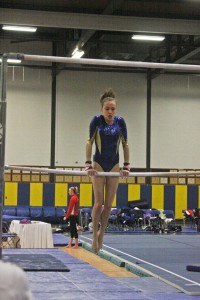 Graduate assistant coach Emily Graber said that the team benefited from their ability to push each other to contribute to their overall score.
"Our strength was our teamwork today," Graber said. "We had big hits all across the board in every event and we were able to create momentum and build on that all the way through floor."
Senior Jessica Bolduc topped off the day with two first-place finishes on the uneven bars (9.775) and the floor exercise (9.700). She also placed second on the vault with a score of 9.625. Bolduc said her win on the uneven bars was the most important victory for her.
"My goal today was to hit my bar routine today which I was really happy about because I have been struggling with that for the past two meets," she said. "I really wanted to contribute with it because I really wanted to beat Cortland."
Other notable finishes included senior Christine Niles with a second-place finish on the vault with a score of 9.525 and senior Lauren Moroch's second place finish on the beam at 9.575.
The team followed the emotional win by celebrating the eight graduating seniors at
the Senior Day ceremony. The team now looks ahead to the ECAC Championships  at 1 p.m. Saturday in Ben Light Gymnasium.
Graduate student Justine Picciano said that the team is extremely happy with hitting all of their routines this week and wants to translate that into next week's ECAC Championships.
"Next week we just have to do the same thing we did this week nest week," Picciano
said. "It's all coming together at the right time and beating Cortland today just shows we can do it."