During this spring season, the multi-event athletes on the women's track and field team have relied on their camaraderie and athletic versatility to overcome the strenuous challenges of the heptathlon.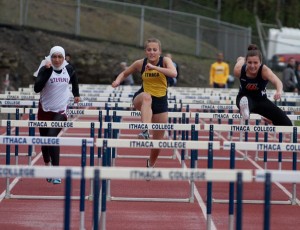 The athletes must compete in seven events during a two-day span. The first day is made up of the shorter running events, including the 100-meter hurdles and the 200-meter dash, along with the high jump and shot put. On day two, the athletes compete in the 800-meter run, the long jump and the javelin throw.
Sophomore Rachael Travers said the most difficult part of being a multi-event athlete is performing well while handling the physical stress the seven events put on the body.
"There is only so much that our bodies can stand," she said. "I know we would all like to practice seven days a week in order to be the best we can be, but our bodies can't do that."
The competitors have 30 minutes between each event. Junior Amanda Rissmeyer said the gap in between events is not really a time to recuperate as much as it is a time to plan how to approach the next event.
The multiple physical and mental strains often push the heptathletes to use their teammates and coaching staff for pointers.
The coaches' physical advice is focused on primarily technical skills that the competitors may miss, such as a rotation when throwing the shot put or the technique used for hurdling. The mental advice stems from the coaches' knowledge of the amount of strain the athletes put on their bodies.
Rissmeyer said the multi-event athletes must put in extra practice time to specialize in several events.
"We start an hour earlier Monday, Wednesday and Thursday to practice an hour of throwing," Rissmeyer said. "Then we stay until about 5:30, so it is pretty physically demanding, and I know even after my three years of training, I'm still exhausted when I leave the track."
Because an average day of practice for the squad's heptathletes includes training in three to four events, freshman Leigh Martino said they rely on the push from their teammates.
"If five of us are participating in an event, the other five will be there supporting them," she said.
The multi-event team is proving they are a force to be reckoned with. So far this season, at least one of the squad's heptathletes ranks among the top five in six of the seven events. The Blue and Gold hope their extended training pays off at the New York State Collegiate Track Conference Heptathlon Championships this weekend at Rensselaer Polytechnic Institute in Troy, N.Y.
Rissmeyer said her teammates provide the additional drive she needs to complete the extra training hours.
"Being a multi has its rewards —  the accomplishments alone are fantastic," Rissmeyer said. "But being a multi with this team keeps me going, and it keeps us all going because this group makes being a multi worthwhile every single practice."