Backed by the roaring crowds in Ben Light Gymnasium and the convenience of playing in familiar surroundings, home games have been an encouraging part of a disappointing regular season for the men's basketball team.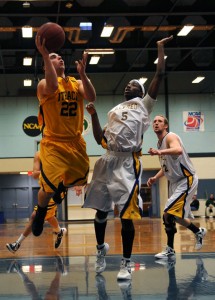 The Bombers currently have an overall record of 8—10, including five wins at home.Their combined record on the road and at neutral sites is a subpar 3—8.
Senior guard Jordan Marcus said the team plays better in home games because it does not have to endure a long travel schedule, which, at some points, spans two schools in as many days.
"You get that home rest — that kind of thing," he said. "We've been playing much better at home all year, and that's where we're comfortable."
Junior guard Sean Rossi said the home court is desirable because of the convenience that comes with hosting a game.
"You practice every day, so you're used to the rims, and you're used to the atmosphere," Rossi said. "It allows you to prepare for the game a lot easier than having to sit on a bus and the whole process of actually getting to the other school to play."
The Bombers' inconsistency on the road manifested itself during a two-game stretch Jan. 13 and 14. The team won an 8 p.m. contest against Hartwick College by two points: 73-71. Following the game however, the South Hill squad traveled 182 miles to Hoboken, N.J., for a game the next day with Stevens Institute of Technology. The Bombers fell to the Ducks by 21 points in the game, nearly matching their worst loss of the season.
Junior forward Andrei Oztemel, who is second on the team in scoring with an average of 14 points per game, said not traveling often helps the team get healthy. He said he has been able to rest more between home games as he nurses an ankle injury.
Oztemel said the Bombers were looking forward to playing crucial conference games on the South Hill.
"We've got to protect our home floor, and hopefully we take care of business," Oztemel said. "It's a good home stand, and hopefully we can get some wins."
Currently, the Bombers are in the midst of their longest stretch of home games in six years.
Winning games in Ithaca is crucial because the host team controls the momentum, Rossi said.
"When you get down and start to lose by 10 points, you have the comfort and confidence of being at home and the crowd," he said. "You think you're going to be able to come back, where on the road you lose that confidence."
Though the South Hill squad's overall record may be mediocre, the team is still in a three-way tie for second place in the Empire 8 Conference.
Marcus said the team has tried to put its slow start away from home behind it and turn a new page coming into 2012.
"We looked at it as a second season," he said. "It's a chance for us to still get into the NCAA potentially. We were all very excited to start it up."