Though the men's lacrosse team has lost four of its last six games, its impervious defense has carried it as it enters Empire 8 Conference play.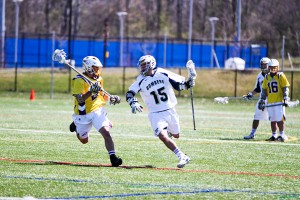 A combination of a high-pressure man-to-man system and a zone defense that has confused opposing offenses has led to a goals against average of 7.09 for the Bombers — the best mark in the conference. The Blue and Gold have also held their opponents to fewer than 10 goals in all but two games this season.
Junior defender Marc Roberts said Assistant Coach Rich Barnes is responsible for developing both styles of defense.
"Coach Barnes matches us up with the attackmen based on our ability and our size," Roberts said. "He does a great job at doing that because we always think we can handle our matchup."
Junior defender Adam Wacenske said the Bombers will only use the zone when the proper personnel — such as sophomore midfielders like Casey Schattner — are on the field.
Union College Associate Head Coach Tucker Kear said his team was not prepared to face the Blue and Gold's defensive system in Union's narrow 6-5 win against the Bombers on March 28.
"It gave us a lot of problems, and we took half the game just trying to figure out what we were going to do," Kear said. "It made our offensive players tentative, and that's one of the reasons why teams run zone."
Roberts said the zone defense forces other teams into taking outside shots that are much easier for senior goalie Brendan Green to save.
"We use it whenever we want middies to shoot outside," Roberts said. "If we know they have really good dodgers, we want to keep them outside and let them shoot."
Green said the defenders have been a major factor in him being able to register a save percentage of .650 during his first full season in goal.
"The defense makes it a lot easier on me," Green said. "Especially the middies. They force guys down the sides, and it makes me confident that I can handle any shots they give up."
The 78 goals the team has allowed this season are the lowest number of scores the program has given up through nine games since the 2009 season. However, the 104 goals the Blue and Gold have scored to begin the 2012 regular season is sixth in the Empire 8.
Roberts said watching the offense struggle can be difficult at times, but is not a distraction for the defense as a whole.
"It's a little uneasy, and you get a little frustrated," he said. "But from a defensive standpoint, we know we can handle anything that comes at us."
Wacenske said while the defense has kept the team in recent games, the offense has been capable of keeping the team in games this year.
"Against Oneonta we let up a few goals we shouldn't have, but our
offense kept us in there," he said. "It goes hand-in-hand, and we just have to get on the same page and both have a good game."