While golfers try to select the best club before every shot, for male golfers at Ithaca College, it's the club that's not in their bag that gives them a competitive edge.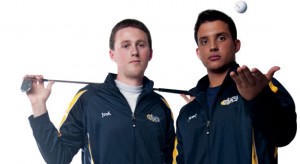 Founded in 2009 by Troy Kirchner '10 and senior Josh George, the men's club golf team has experienced notable success, dropping only one match since its inaugural season. But in an additional effort to provide a competitive environment for members, Kirchner and George — currently the president of the club — took it one step further and founded the Central New York Collegiate Golf League.
Kirchner, who played varsity baseball his freshman year, decided to form the club after suffering a torn meniscus during summer league play in the offseason.
George, who played golf for Red Hook Senior High School in Red Hook, N.Y., contacted Kirchner after seeing a Facebook group Kirchner had created. Kirchner started the application process, while George focused on finding members and a home course to compete on. In January 2009 they held their first organizational meeting.
"We started to reach out to people, telling everyone to call their friends," Kirchner said. "That's when we started the Facebook group, we put up posters and things like that, and that's pretty much how it started.
In addition to finding a course — the team currently plays at the Country Club of Ithaca —  finding other schools was another hurdle in getting a competitive league under way, Kirchner said.
"We sent an e-mail out to at least 15 to 18 schools," he said. "There were even some varsity programs, some junior colleges or community colleges that weren't a part of any division or anything like that out there, and we even shot for them."
After hearing back from Binghamton University, SUNY-Brockport, SUNY-Cortland and Syracuse University, Kirchner and George set up a schedule for the first season, which concluded with Ithaca winning the regional invitational.
The length of the team's season hasn't changed much in the league's first two and is based on a fall portion that lasts roughly two months and a shorter spring portion. Matches are typically held on a weekly basis, with one bye week. Each of the five teams play all four other schools leading up to the regional invitational.
SUNY-Cortland senior Matt Taormino, president of the Cortland men's club golf team, said the league provides more than just a competitive setting.
"Meeting a lot of the kids from the other teams, a lot of the kids are really cool," Taormino said. "I like seeing the same faces and getting to experience different golf courses that we've never played. This gives us the opportunity to do so."
While practice during the week is not mandatory, aside from group practices on Fridays, practice time logged on the course and each players' commitment was evident from the team's play in its inaugural spring season, as the team went 2–1 and won its regional invitational.
The team has maintained its streak of success, going 4–0 last fall season — with an average margin of victory of 42 strokes — and won back-to-back titles at the regional tournament. This season, the club is 1–0, having defeated Binghamton University by 45 strokes Oct. 2, and has gained attention from prospective students and golfers.
Sophomore Bobby Savino, who joined the team last spring, said he knew about the club before coming to the college and knew that it was something he wanted to get involved with.
"It gives you something to work for," Savino said. "Once high school golf was over senior year, every time you went and played it was just, not meaningless, but there's definitely a lot more to work for now that you have matches to work toward."
With 16 players at tryouts this season and only 12 spots on the roster, it was the first year the team had to make cuts. Though the team only plays six players in any given match, the other members are often called on to step in if there are scheduling conflicts.
At Friday practices players pair off to play against each other, which helps keep all the members involved competitively and brings them together as a team, vice president and senior Jamey Campellone said.
"We go to the diner before [away] matches," he said. "That tradition started when the team started with Troy Kirchner. For home matches, everyone will just meet at the course, we hit balls together, we putt together and we know what we want to do. We've had so much success and want to continue it."
Campellone said the club's success comes from the players' commitment and the extra work that they put in during their free time.
"When someone isn't doing well or struggling, they'll stay on the range and hit a bunch of balls and figure it out or go on the putting green and putt, because we're all really serious about playing the sport," Campellone said.
With the women's golf team in its second season, George and Campellone said they hope there's potential down the line for there to be a varsity program.
Mike Lindberg, associate director of intercollegiate athletics, said teams are considered for expansion based on several different elements including consistency of participation and budget cuts to existing programs.
"If the college would like to expand its program for men's varsity sports, we would likely take a look at the existing sports clubs that we have sponsorships for — golf being one of those — and take a look at them using the criteria that we have in our manual," he said.
But varsity athletics has requirements — one being Title IX compliance.
Traevena Byrd, associate counsel and director of equal opportunity compliance, said it's a challenge to add men's sports and remain in compliance with Title IX.
"If there was the addition of a women's team, or the expansion of women's opportunities on a particular team — and that was happening at a frequency that was meeting or exceeding what the civil rights officer would expect in terms of expansion of programs and opportunities — then we would probably feel more comfortable with adding men's golf," Byrd said.
As the club continues to win, George said the younger players on the team have the right mentality to further the club's development and success.
"They're going to keep the league going and keep everything going," George said. "Even if there is a varsity team, I'm sure there'll be a club team. Just to keep what we started going for as long as they can would be pretty cool."