The women's swimming and diving team is just a few strokes away from achieving its first perfect record in the regular season since the 2002-03 season.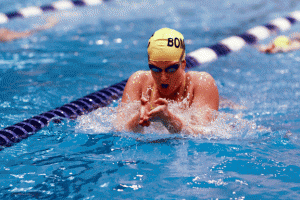 The Bombers remain undefeated at 11–0 this season and have been winning meets in a dominant fashion.
Of the 11 teams the Bombers have faced this season, the only one that came close to beating them was SUNY-Geneseo in a 125–118 decision Nov. 20. The South Hill squad has defeated its competitors by an average of 98.6 points.
Head Coach Paula Miller said the 41 athletes on this year's roster — the second highest total since the 2004–05 campaign — has helped contribute to the team's accomplishments this season.
"Since it's such a large team, they push each other," Miller said. "On a small team, if you feel settled or comfortable in a situation, then you won't push yourself as hard, so it's an advantage to have a big team."
Junior backstroke and freestyle swimmer Missy Keesler said the number of athletes is an aspect of the team that everyone has adjusted to.
"It gives it more balance personality wise," Keesler said. "There is just such a blend of personalities with more people that comes with the contributions from everyone."
The Bombers only had two meets scheduled in the Hill Center Pool this season with their last home meet Jan. 22. The team's 10 dual meets on the road adds a competitive edge to practice because the whole team cannot travel together.
"Everyone knows that not everyone can travel, so they're fighting for their spots while supporting each other, and it contributes to our success," Miller said.
In the most recent College Swimming Coaches Association of America Division III Swimming & Diving Poll, which was released Jan. 25, the Bombers were ranked No. 28 in the country.
Senior freestyle swimmer Sheila Rhoades said winter training, camaraderie and hard work have propelled the team to its rank among the best in the nation.
"We have such a strong team this year," Rhoades said. "It's just phenomenal how everyone has been performing and how we've gotten together as a team. We have a strong lineup for the first time in a long time, and it's really exciting."
Having a good mentality in and out of the pool has also helped the Bombers achieve their perfect record.
"We try and get ourselves really psyched up for meets and practices," Rhoades said. "We always try to have a positive attitude and make sure that we're mentally prepared."
Miller said she hasn't done anything drastically different in the team's training compared to previous seasons and stuck to what she knows produces results.
"Every year I try to tweak something so it's similar, but I've changed it up a little bit as far as some speed work," Miller said. "If you're successful, you don't want to go too far from what you've done."
Diving Coach Nate Brisley said this year's squad is unlike any team he has coached before.
"I haven't seen a team — at least on the diving side — that has had so much energy right after [the] training trip and are so excited to come to practice," Brisley said. "It's been very high-energy, high-tempo and a lot of positive feelings."
If the Bombers continue on the path they've set, they will become the first women's swimming and diving team in school history to achieve a 12–0 record.
"It would be awesome — especially my senior year — going out with a bang like that," Rhoades said. "I'd be so thrilled."
In order to accomplish this task, the Blue and Gold must beat Union College. Though the numbers suggest it may be easy, Brisley said the stats are misleading.
"You can lose a race or win a race by a hundredth of a second, and there's a very large point difference between first and second place," Brisley said. "The meets overall were really close, but the score doesn't tell the same story. A lot of the meets could have gone either way, but they ended up going in our favor."
The last meet in the regular season will be a true test for the Blue and Gold before heading to states, and Brisley said the South Hill squad is up to the challenge.
"To this point they've done what they've needed to do," he said. "They've done what in previous years has been the track record for success at the end of the season. If that's any indication of where we're going, then we're going to see some pretty awesome things."