Until this season, the football team had not lost three games in a row for more than a decade. But now, the Bombers' streak of 40 consecutive winning seasons is in jeopardy.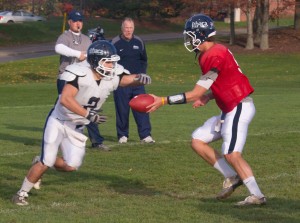 The Bombers have an overall record of 3–4 and a mark of 1–4 in Empire 8 Conference games. They were picked to finish fifth in the Empire 8 Conference's Preseason Football Poll, but currently sit in seventh. They  have been eliminated from playoff contention, as they sit a full game behind three teams for the final spot.
Three of the South Hill squad's four losses this season have been decided by five points or less with one loss coming in overtime.
The Bombers' three victories, on the other hand, have all been by margins of five points or more. The team holds a 148-137 scoring advantage against its seven opponents this season and averages five more minutes in time of possession.
Special teams have been the Bombers' strength in every game this year. Senior wide receiver Dan Ruffrage entered last weekend ranking second in all of Division III, averaging 26 yards per punt return and 34.6 yards per kickoff return.
Senior kicker and punter Andrew Rogowski has hit 80 percent of his field goals and averaged more than 37 yards per punt.
Ruffrage said the special teams unit is able to excel because of the amount of effort put into that third of the game.
"It's something we work on everyday," Ruffrage said. "We got a lot of good guys out there that work hard. We play a lot of our starters on special teams that really get after it, and it's an advantage for us if we can get ourselves in better field position."
Sherman Wood, head coach at Salisbury University, said though the Sea Gulls were able to defeat Ithaca 21-7 on Sept. 10, the Bombers' special teams unit was exceptionally strong.
"They did a pretty good job with the return units and blocked one of our punts," Wood said. "It was something that kept them in the game."
The running game has been the Blue and Gold's achilles heel late in games this season. Opponents have outgained the Bombers on the ground, running 1,243 yards to Ithaca's 690 yards. This has lead to blown leads in the fourth quarter.
Mike DeLong, head coach of the Springfield College Pride, said third down conversions were one of the factors that worked against the Bombers late in his team's 38-33 win Oct. 15.
"We just happened to make a couple really big plays, and that was the difference in the game," DeLong said.
Despite surrendering leads in the fourth quarter, Wood said, the Bombers had a relentless attitude that was a focal point in Salisbury's game plan.
"We thought their kids were disciplined, hard-nosed and put forth a tremendous effort throughout the video that we had," Wood said after watching film from the matchup.
Tom Vossler '11, assistant coach and wide receivers coach, said he still sees the same spirit and motivation on the team that was prevalent during the four years he was a wide receiver for the Bombers.
"We go out every Saturday and leave it all out on the field. Anybody that goes back and watches those games, that's what they'll see."