Though the gymnastics team's regular season has not yet begun, the injury bug has bitten the Bombers in more ways than one.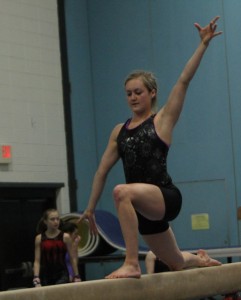 The Blue and Gold have persevered through major and minor injuries on its way to putting together a younger lineup of sophomores to compete in events. In addition to sophomores Shilanna Gallo and Kate Woodward being limited in practice, senior captain Tiffany Grube fractured her foot in practice Dec. 5.
Gallo, a returning All-American who received a score of 9.4 on the uneven bars at the NCAA Championships, has been battling a wrist injury that has forced her to modify her entire bar routine. She said she has worked with the coaching staff to add new components to her routine that do not require her to use her wrist as a focal point for twisting her body.
Despite these modifications, Head Coach Rick Suddaby said Gallo's skill and consistency that she had last season would carry over to this season.
"Shilanna was the quickest one to pull it together," Suddaby said. "That wasn't really new stuff for her, that was stuff that we tuned up that she came with. She came in strong, but this year she has relearned it all so we are confident and will see how it goes."
Woodward, who has had issues with her back, said she is trying to stay in the moment.
"Our first meet is not for a few weeks, so physically, I am taking it one day at a time," Woodward said. "Mentally, I just remind
myself that it is about quality, not quantity, and I will get back to where I want to be."
Woodward has been limited to mostly handstands and jumps in practice, but Suddaby said he expects her to be ready to compete on both the uneven bars and balance beam at the start of the regular season next month.
Grube, on the other hand, is wearing a walking boot and is expected to be unable to compete for the next six weeks. She earned scores of 9.175 and 8.969 on the floor exercise last season.
With the loss of Grube for at least the team's first meet against SUNY-Brockport on Jan. 14, as many as three slots in the floor exercise event have become available for the sophomores on the team, which include Meredith Daniels and Rani Jacobson. Daniels longs to make her mark on the balance beam, while Jacobson yearns to establish herself as the team's go-to athlete for the events in the all-around.
Though Daniels and Jacobson only saw limited action last season, Suddaby said he is confident they will rise to the occasion along with their classmates in Grube's absence.
"It puts more pressure on them to be ready, but the injury opens up spots," he said. "We are going to rely on them so that we can still be very competitive. Our sophomore class has improved more than any group of kids I have ever coached, and this is my 26th season."
Graduate Assistant Coach Lauren Marcoux said she has been preparing this year's group of sophomores for roles as starters  using an intuitive coaching style she shares with Suddaby. This allows her and Suddaby to get a sense of each individual's level of motivation.
Marcoux said the ability of the sophomores to take criticism has given them more of an edge in practices than past second-year athletes on the team.
"They never get tired of trying to push themselves further or hit any stumbling blocks that they can't overcome," she said. "They
really want to learn in order to get better."
The Golden Eagles defeated the Bombers by a narrow margin of three points during last year's Harriet Marranca Invitational in Ben Light Gymnasium. But the South Hill squad believes its hard work, desire to start the season off strong and defeat of Brockport at last year's national championships has given it the confidence and ability it needs to begin the 2012 season with a win.
Senior captain Kim Callahan said the sophomores feed off of each other and motivate the team to practice harder. She said they know what they want and are more willing to achieve their goals than any group she has ever seen.
"They don't have off days or excuses," she said. "They come in and do their job no matter what. They work so hard that they keep everyone on their toes."