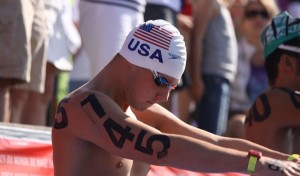 Meyer sat down with Assistant Sports Editor Harlan Green-Taub last week to discuss his past accomplishments swimming in Ithaca and at Harvard University — and what  the  future holds for him.
Harlan Green-Taub: How did you get involved in long distance swimming?
Alex Meyer: I moved to Ithaca when I was 10 and consider myself a native Ithacan. I went to Ithaca High School, so I swam there on the varsity team since I was in seventh grade, and my coach was a guy by the name of Roy Staley who is still there. As I was kind of coming into my own and getting better at swimming I realized by the time I was 12 or 13 years old that I was a distance swimmer, and more specifically a distance freestyler. In high school the longest event is 500 meters, so the high school menu was pretty limited for me.
U.S. swimming is more broad in terms of the events that you can compete in, but even their longest event is a mile, the 1,650 yards, or 1,500 meters. I swam in college at Harvard for four years, and even though I had a lot of success in the pool as well, I still felt like after 15 minutes I was just getting started. I grew up right on the lake and Roy kind of pushed me into doing more open water stuff. We had a boat on the lake so we were always out there swimming. The combination of those two things — my desire to do longer races and also the open water element instead of being in a pool — really got me into it.
HG: What are some of the ways you train differently than a short distance swimmer?
AM: It's a lot more volume training, so it's a lot more hours and yards. It's not as much weight training, power work and stuff like that, just a lot of building up endurance.
HG: Besides distance, is there any other difference between the 10- and 25-kilometer races in swimming?
AM: Both races present different challenges. It's hard to be at the top of your game in both events at the same time because the training is different for the two. The 25-kilometer is almost a survival contest, whereas the 10-kilometer is a much stronger pace the whole way through. You can be a little more savvy in the 10-kilometer
because the group tends to stay together most of the race until you get close to the finish, so your tactics need to be a little more finely tuned.
HG: What are some of the things you will be doing leading up to the Olympic Games?
AM: The lead-up is not going to be much different from what I've done in the past, just a lot of hard training and we're still planning out what races we're going to do. For now it looks like I won't be racing again until January so just getting back in shape. I took a couple of weeks off after we did a test event in London in the middle of August. I've been slowly getting back in the pool since then and it's time for me to get my act together and get my nose back to the grindstone. There will be training camps, and I'll be heading to the Olympic Training Center in Colorado Springs, Col., in January. Other than that, I'll probably do three or four races in the spring leading up to London.
HG: What other sports can you compare to distance swimming?
AM: Probably marathon running or cycling. A lot of the fundamentals of those sports — like drafting, positioning, breaking away, packs — it all carries over. Those things are very analogous to what we do in open-water swimming.
HG: What are some other countries that have strong distance swimmers that will be hard to compete against?
AM: Russia, Germany and Italy. The only countries that qualified two athletes for the London games were Russia and Germany — two men qualified from each. For the rest of the countries, only one person qualified in the 10-kilometer.
HG: What was it like to represent your country at the World Championships?
AM: My first national team was in 2009, and it was kind of a surprise, but it was by far the coolest thing that's ever happened to me. When I was a little kid we had these swimming caps with the American flag on them and they could stamp your name on there. And you and all your friends would show off the caps with your names on them. I remember they sent me all these boxes of stuff before I went to any competition, and at the top of one of the boxes were these stacks of swimming caps with the American flag and your name on them. It was awesome and a huge honor.  I almost feel like I'm serving my country in a way, obviously nothing like the folks in the military, but I'm representing my country on an international stage.