When senior heavyweight wrestler Matt Mahon went to a Halloween party his sophomore year of high school, he thought it would be fun to wear his father's flying jumpsuit as a costume. He put on the matching camouflage shirt and pants and went to the party, but he didn't know his father was held in such a high regard until he noticed a symbol on the upper arm of the uniform in a picture of him from the party.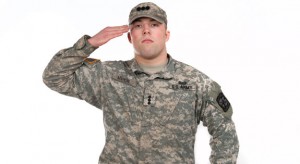 "I saw the patch on the shoulder of the shirt in one of the pictures that was taken, and when I asked my mom about it, she confirmed it," Mahon said.
Mahon was amazed to learn his father was a lieutenant colonel in the U.S. Air Force. That epiphany inspired Mahon to become a third-generation military man.
"It's good for my country and everyone in my family who served, so I decided that it was going to be me next in line," he said.
Mahon's biological father, Michael Thomas, was a lieutenant colonel in the Air Force, and his maternal grandfather, Edward Stephanie, held the same position as a United States Marine serving in the Pacific during World War II. Thomas was in the Reserves when Mahon was born and died of cancer when Mahon was in the fourth grade.
Mahon said his fondest memories of his father were the camping trips he took them on near his hometown of Rochester, N.Y. They helped him get an understanding of the military lifestyle.
"He would have us eat the ready-to-eat food so we could get an understanding of the kind of stuff he had been eating when he was in the service," he said. "I thought it was really cool as a kid, like eating space food, but now that I'm eating them later, I think they taste worse."
Mahon looks back on his father's service during Operation Desert Storm in the early 1990s in Iraq with pride.
"The fact that he was motivated to achieve the same rank as my grandfather says a lot in itself," Mahon said. "It took a lot of courage for him to put himself on the line like that in a dangerous area, and I wanted to share my talents in that same way."
Mahon's time with his father inspired him to pursue the Marines straight out of high school. His mother, Ann Marie Mahon, wanted her son to earn a degree before enlisting so he could move up in the ranks faster. His four-year commitment to ROTC provides full tuition assistance in addition to living and book stipends.
Before his junior year at Ithaca, Mahon had to train for an air assault exercise to earn a leadership position in the ROTC program. This consisted of a grueling 13-mile march in full uniform, including a large backpack filled with field supplies, ammunition and rations. His mother quickly became a training partner, often waking up at the crack of dawn to help him train.
Ann Marie said Mahon's workout was particularly taxing one summer morning.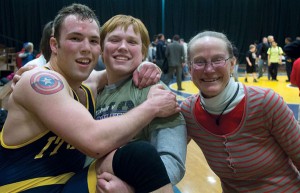 "It was 80 degrees out — I was sweating in shorts — and here he was in full gear with a 60-pound backpack on," she said. "I didn't think he could do it, but he did."
As a senior leader in the ROTC program, Mahon sometimes leads early-morning workouts for younger cadets. He's also responsible for organizing and leading cadets through field training exercises at the end of each semester.
While Mahon stays serious as an ROTC member, his more relaxed and light-hearted side often comes out when he's in the wrestling room. Following one home meet, Mahon put on Ray Ban sunglasses and began to dance under a shower head in a locker room. It was his way of celebrating with his teammates after a long meet that came down to the final two individual matches.
"I knew it was stupid and strange, but someone was going to smile, and someone was going to be mad," Mahon said.
Graduate student Jeremy Stierly said Mahon's positive energy and occasional silliness relaxes the team during its rough stretches.
"He's always up, and he likes to talk, and while we're not always in the best mood, he always is," Stierly said.
Mahon said ROTC has helped him learn how to channel his energy. He learned to draw the fine line between fun and focus during a leadership development assessment course he took last year.
"I was a big hippie in high school," he said. "I liked to have fun and joke around a lot, and that was my biggest problem going into my junior year of college. I was eating an apple when I gave orders, and the colonel told me he loved my ability to pump people up, but I was going to do terrible out in the field if I acted that way."
After graduating in May, Mahon hopes to be stationed at the Fort Drum Military Base in Jefferson County, N.Y. He aspires to work in military intelligence following his deployment from the base. He said the rugged mentality he has built through involvement in wrestling and ROTC has helped him understand the meaning of commitment and maintain a positive attitude in tough times.
"It's a sport and life of sacrifice," he said. "It's so easy to feel depressed and powerless, so I just go in there and have a ball. I try to make the other guys smile, and if they do, it's the highlight of my day."