Graduate student Maegan Krifchin's fluid running motion propels her downhill on the Ithaca College Cross Country Course. The leaves that cover the sloping concrete path crunch
under her small frame. As students stumble out of bed and prepare to drag themselves to their 8 a.m. classes, Krifchin has already knocked a few miles off her morning run.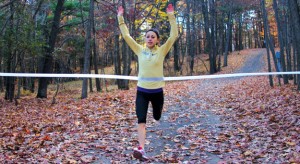 Krifchin is practicing for her ultimate goal: a spot in the 2012 Summer Olympic Games in London. She will compete at the U.S. Olympic Marathon Trials on Jan. 14 in Houston for an opportunity to represent the nation on the biggest stage in sports. Though she has been a top finisher among female competitors in many road races, Krifchin will be running in the first marathon of her career when she competes in the trials. She is the college's only representative in the race.
Krifchin said not knowing what to expect from the 26.2-mile race in Houston will be an advantage.
"Marathon training is just something I'm learning, and I've wanted to learn about it for a while," she said. "The excitement of starting something new is a good motivator for me, and it's good to be kind of naïve about this."
The journey to the Olympic trials has been a steady progression of new challenges for the Long Island native. Krifchin played soccer at John F. Kennedy High School in Bellmore, N.Y., where, she said, her propensity for running was evident while she was playing the sport.
"When I was playing soccer I played midfielder, and I never got tired running back and forth," she said. "As I got older, other girls got a little bigger and started knocking me around a little bit, but I could still outrun them."
Krifchin decided to take up track and field to test her speed against local competition. She had switched over to running full time by her sophomore year of high school and became an All-American runner during her senior year.
Krifchin accepted a scholarship to Syracuse University in 2006 and earned her degree in health and exercise science in 2010. She excelled at middle-distance racing for both the women's cross-country and track and field teams. She won the 1,000-meter run at the 2006 Eastern Collegiate Athletic Conference Championships in Williamstown, Mass. with a time of 2:52.81. She also broke the school record for the 1500-meter run in the outdoor track-and-field season of her senior year with a time of 4:22.65.
Krifchin said she enjoyed the excitement of the shorter races, where runners go all out from the starting point on.
"It's a different mentality when you toe the line and know the race will be over before you know it," she said. "You have to run fast right from the gun, which is different from a distance race where you have plenty of time and work on pacing throughout the race."
Krifchin started her graduate work toward an occupational therapy degree at Ithaca College less than two weeks after leaving Syracuse.
Krifchin has had to learn how to balance her graduate work with her training schedule during her two and a half months at the college. She tries to get her assignments done right away so she can free up time for running and still keep her mind clear.
In her spare time, Krifchin has started to turn some heads on the road race circuit. She gained momentum by winning the 2011 Johnny's Runnin' of the Green five-mile race in March. She followed that up by placing in a field of 5,080 women and more than 15,000 runners at the Utica Boilermaker 15-kilometer race in July.
After enjoying success in the Runnin' of the Green, Krifchin started training with Stotan Racing, an independent running club based in Syracuse. She said running with Stotan helped her realize she had the skill set to compete at longer distances.
Eric Sambolec, assistant coach of the men's cross-country team and distance coach for the men's track and field team, said Krifchin's most prominent trait as an athlete is her mental and physical endurance.
"With distance running, you can't always see all the traits that could make somebody good from the outside," he said. "Certainly when you see her running down the street you can tell that she's fast, but what sets her apart is that the longer the distance goes, she doesn't really slow down."
Before arriving at the college, Krifchin contacted women's cross-country Head Coach Bill Ware about joining the Bombers' coaching staff. When there wasn't a spot for her, Sambolec reached out to Krifchin so she could help the team build endurance and train for running long distances.
Senior distance runner Jacob Brower, who competed in the 5.2-mile run this season, said Krifchin stimulated the men's cross-country team to compete harder in practice.
"It didn't turn out to be weird because you're just training with another person who is just as good as you," Brower said. "Where it helped was when you were having a really bad day or were feeling unmotivated; you didn't want to look like a total idiot."
On a typical day, she usually runs twice a day for a combined total of 10-15 miles. She is beginning a new block of training that will bump up her daily distances in preparation for her first marathon. It will focus on tempo and progression in runs.
Krifchin said the Olympic trials have been on her mind since she earned a fifth-place finish out of women competitors at the Rock 'n' Roll Philadelphia Half Marathon in September. Her finishing time of 1:11:04 was the third-fastest time in the half marathon by an American woman in 2011.
Krifchin said the feeling of qualifying for the 2012 Olympics in London is one that is hard for her to describe right now.
"Someone could have a great day and somebody else could have a bad day, and I hope that it's me who has a great day," she said. "I'm sure I'd be a little shocked, and of course it would be the most amazing experience."